Went to bed at 11pm, woke up at 1:43, 3:45, then my cell alert woke me at 5 at which time I laid in bed waiting for the alarm to go off at 6. Showered, dressed, went down to the hotel cafe to grab a muffin and yogurt. Hubby being the efficient personal race manager (PRM) kept reminding me to eat while I was texting away with Karen and Wendy on the drive to Lake Mead Recreation Area! :) We got to the Boulder Beach Event Picnic area (start of the race) around 7am. They directed us to park the car 1/4 mile down by the beach/dirt. Forgot my Garmin and sunglasses while walking to the start, had to walk back to the car... so not ready for this race.

A beautiful sunrise at Lake Mead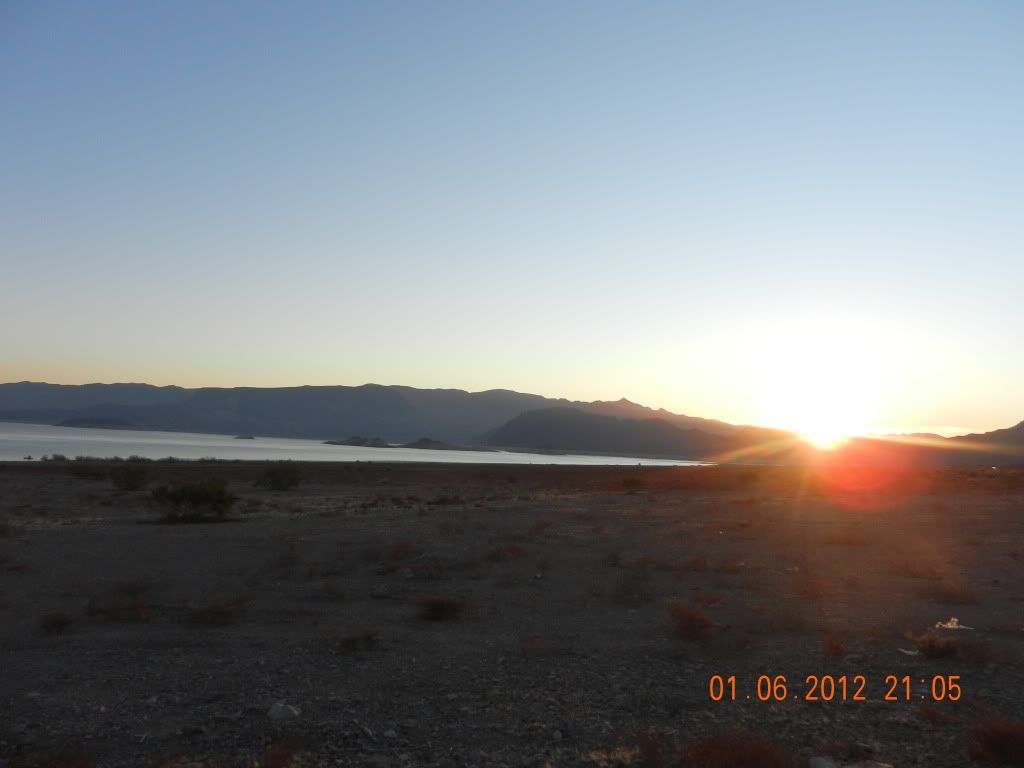 Walking 1/4 mile up from the car to the start a second time.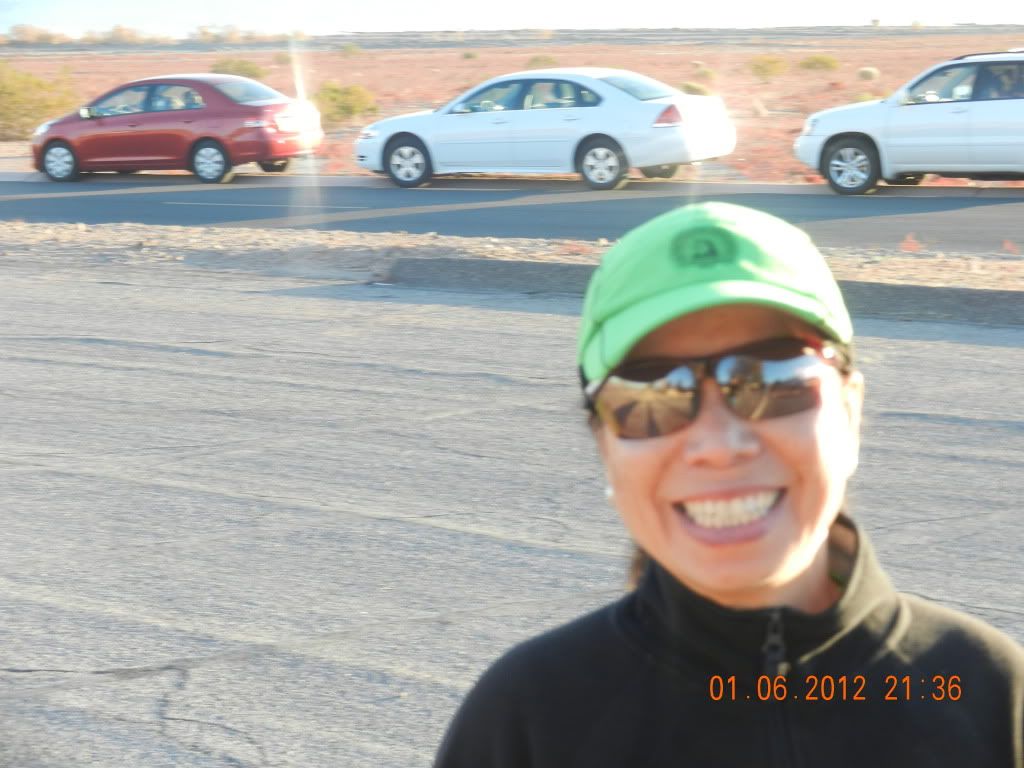 This event has several race distances with staggered start times: 50 miles=6am, Marathon =8a, Half=8:30a, 10K=8:45a, 5K=8:50a. The course is the same out-n-back with various turnaround points for the different races. There was a friendly atmosphere with everyone smiling and milling around at the start.

Gotta love no line at the port-a-potty and the cleaning stations right outside. :)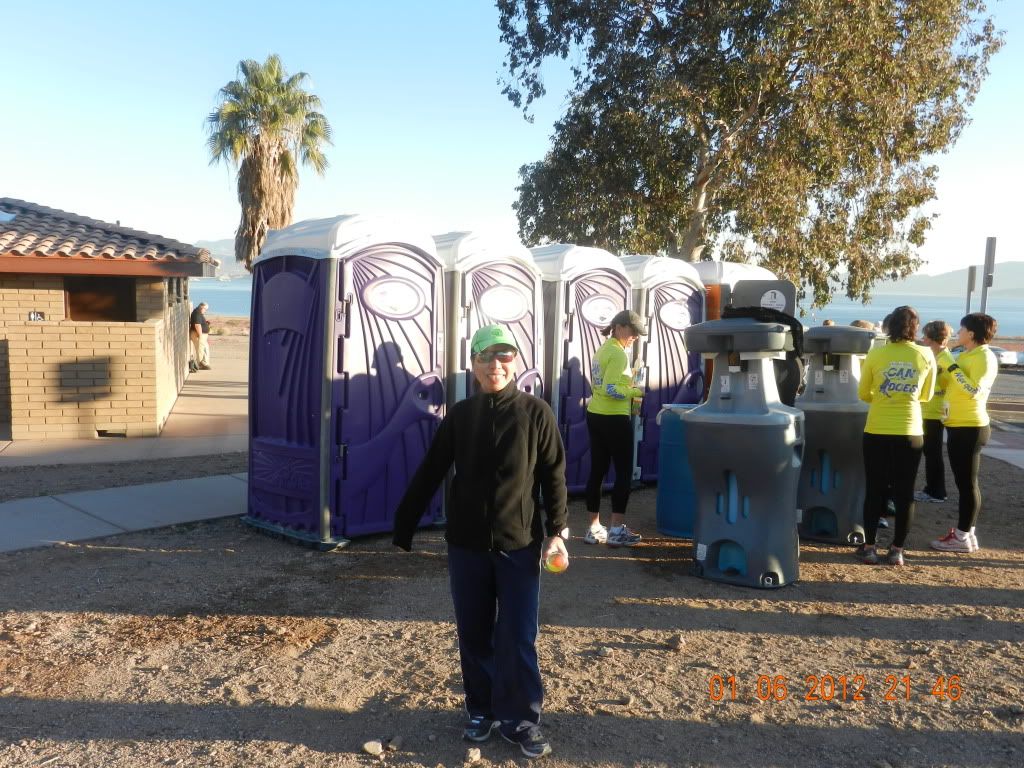 The race director using a bull-horn instructed us to gather by the timing clock/mat and gave straight instructions to run within the white line of the road shoulder and to put litter in the trash cans at aid stations. The course, entirely on National Park roads, is open to traffic. Running out of the white line as well as littering would result in DQ.
I figured in a small race, I'd be running alone most of the time. My PRM thought some tunes would be helpful. It's the first time I've ever run a race with iPod.
Putting the iPod in my shirt pocket just before count-down.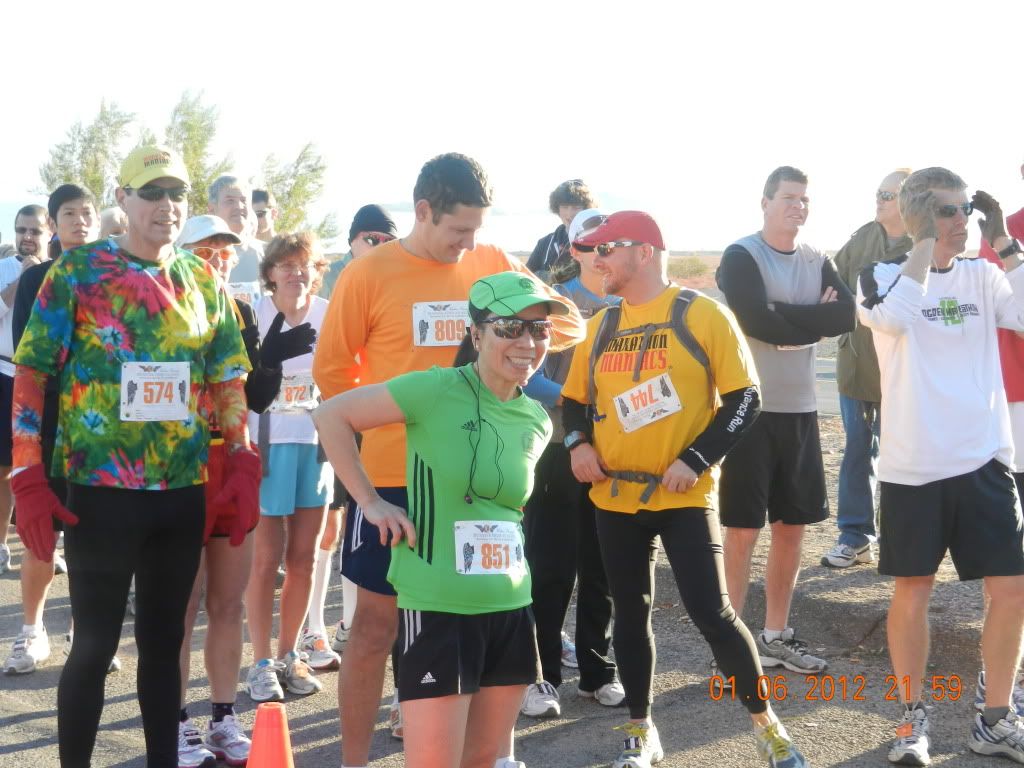 The weather was perfect: low 40s starting temp, 6mph WNW wind, sunny blue sky. The course is USTAF certified, entirely on pavement, nothing but HILLS with net elevation gain of 2839'. Here's the description of the course from the race website:

Departing the Boulder Beach start line there is a gradual climb of about a 1/4 mile until you turn right onto Lakeshore Drive. The next 3.5 miles are a series of rollers and flat-ish sections. Then a series of 1 mile long stretches of downhill, uphill, downhill repectively taking you to the 1/2 marathon course turn around- keep going straight! You'll continue with another 1 mile downhill. Then miles 7.7 to mile 10 are a series of rollers with a slight net gain. At mile 10 take a right onto Northshore Drive. A 1 mile downhill preceeds a series of rollers which lead you to your course turn around. Heading back you'll cover rollers for about 2 miles, climb 1 mile back to Lakeshore Drive (you are now at mile 16.2) Roughly 2 miles of rollers with a net loss leads you to a 1 mile climb. Now you again start the stretches of 1 mile sections going uphill, downhill, uphill. Mile 22.5- roughly 26 is a series of rollers again leading you to a strong downhill finish the last 1/4 mile. ** This course has an 8 hour cut-off.
With a 7lbs weight gain and a bum knee, I was in NO racing shape...so I thought I'd run this by feel...hoping to finish under 5 hours...perhaps 4:30 under the best scenario. Plan was to: 1) keep an even effort on the uphills, 2) practice running smoothly on the downhills, 3) walk through every aid station, drink/fuel to prevent hitting the wall like I did at Mesquite. Turned out there were 17 aid stations in all with 5 of them designated as Ultras providing choices of food/gel as well as water and Heed.
We had to stay within the white line on this winding hilly road. Some of the hills are a mile or longer. With the earbuds on I was startled a few times when teams of cyclists whizzed by and a group of shinny speedy cars (corvettes and the like) zoomed past.
Lotsa hills! There were mile markers (blue ones for marathon) every mile inserted in the orange cones.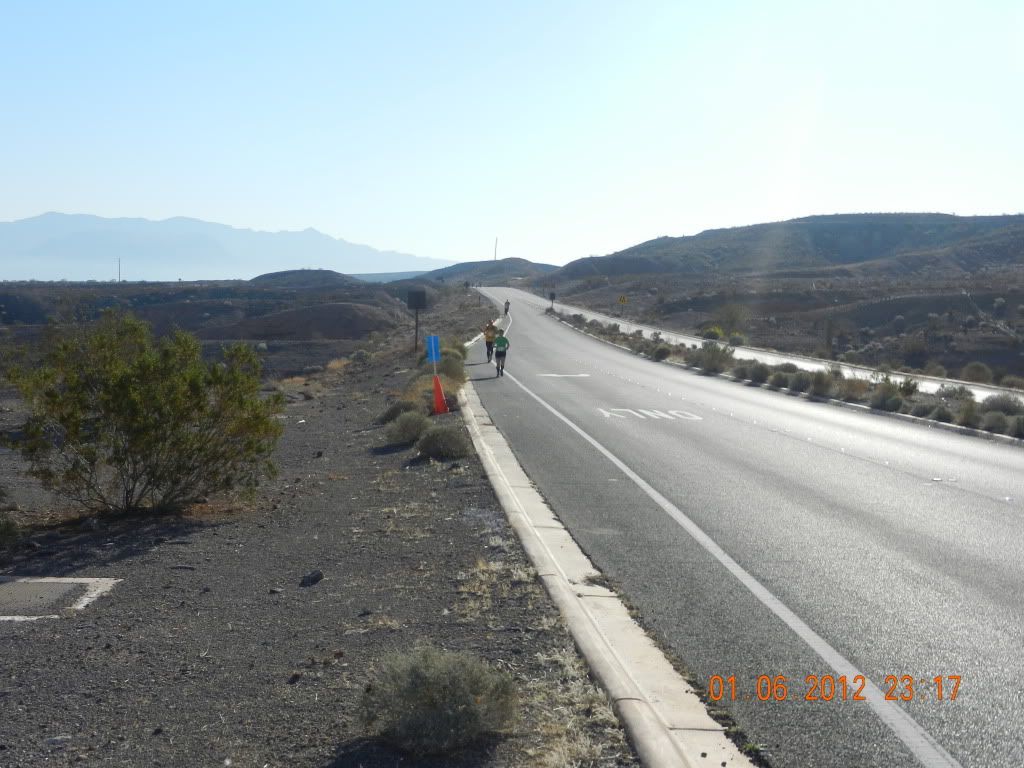 There were only couple of places my *PRM* could pull over to snap pictures. Here's the widest section of the course with a median divider and right turn lane. Otherwise the road is a narrow single lane w/ double yellow dividing lines. The beautiful scenery more than make up for the lack of spectators/cheers.
Mile 1 ~ 9:58. First 1/4 mile is a climb out to the main road, then a slight drop for 1/4mile and level out for 1/2 mile. My hands and feet were numb. Strides were clunky.

Mile 2 ~ 9:24. Slight incline the first half then an uphill and downhill the second half. Saw couple of guys who look like Kenyans doing their warmups (probably for the 5Ks) on the trail parallel the road, running towards the start.

Mile 3-4 ~ 9:37, 9:24. Gradual uphill for these two miles cresting at mile 3.75. Gu'd at mile 4. Legs finally woke up.

Mile 5 ~ 8:59. Downhill for 5/8 of this mile then uphill. Right knee creaked a little.

Mile 6 ~ 9:49. The road sign shows a 8% grade for this uphill mile. Passed one woman who appears to be in my AG and a pack of 5 runners. This is at the crest of a lookout view point area with gorgeous views of Lake Mead and the surrounding mountains.

Mile 7 ~ 8:59. First half of this mile was downhill then a slight incline and flatish for the last 1/4. Knee seems to warm up a bit.

Mile 8 ~ 9:10. Finding my groove on this winding semi-flatish stretch and soaking in the sun, gorgeous scenery and enjoying the ipod (The music my PRM loaded for me range from Amy Grant, instrumental church hymns, Phantom of the Opera, LDS pop songs, Barbara Streisand, YoYo Ma, Sissel, MoTab and little bit of Conference talks).

Mile 9-10 ~ 10:07, 10:08. Uphill climb to the highest point of the course. Gu'd at mile 9. The course turned off a road that went down and passed Lake Las Vegas.

Mile 11 ~ 8:48. The steepest downhill of the course. I took note that it would be quite a climb on the way back. Saw the lead runner at mid-hill running as fast or faster uphill as I was downhill. WOW! He was cruising. He went on to win it in 2:54:33

Mile 12 ~ 10:39. An uphill climb of 250' for 3/4 of this mile. One of the nice things about an out-n-back course is you can see and count the runners ahead of you. There were over 20 men and 7 women that I counted and congratulated/cheered as they ran towards me on their return.

Mile 13 ~ 8:57. This is mainly downhill with a slight incline at the turnaround. Ran the half in 2:06:xx. Gu'd at mile 13.
Mile 14 ~ 9:35. At the turnaround, saw another woman right on my heels. I was determined to not let her pass me.
Mile 15-16 ~ 9:45, 9:43. These two miles were half up and half down. Just concentrated on even effort. Slowed to cheer on the runners coming up...should've taken advantage of the downhill.
Mile 17 ~ 10:22. Most of this was a climb back up to the highest point of the course. Felt some side and head wind as the course turned south. Gu'd at mile 17.2.

Mile 18 ~ 9:14. Quads started to ache. Concentrated on reeling the runners ahead who were strewn about 1/2 mile apart. Passed 2 women and a handful of men over the next couple miles.
Mile 19-20 ~ 9:31, 9:22. These were the backside of mile 6.5-9ish. I was pleased that my legs were still holding out ok. The sun was beating down on us getting warm.

Mile 21 ~ 10:53. Had to walk 3x(10-30 seconds each) on part of this short but steepest climb of the course where I had cruised down at a 8:48 pace 3 hours earlier. :) Got passed by a Japanese runner wearing cyclist top. He was cruising...where did he come from?

Mile 22 ~ 9:33. The gradual downgrade helped the legs and lungs to recover. My energy was spent and thankfully at the mile 22.2 aid station, the volunteer gave me an Expresso gel which literally *woke* me up.
Mile 23 ~ 10:32. Another uphill mile where I picked off a couple more roadkills. Just 5Ks and two uphills to go...I can make it.

Mile 24 ~ 9:22. Looked at my watch and realized if I kept my pace under 10mm I may be able to finish in 4:15. That became my goal. :)

Mile 25 ~ 9:37. Quads and shins were screaming with pain. I was determined to pass one more guy ahead. Skipped the drinks at the last aid station.

Mile 26 ~ 10:09. There were two inclines on this mile that did not feel like downhill 4 hours earlier but now appear to be major uphills! How cruel!!! Just get it over with...I'm so DONE with hills! :)
0.37 mile ~ 9:39. I did not nor dared sprint to the finish...my shins were ready to seize up any moment. Crossed the finish passing Yolanda who had started her marathon 2 hours ahead. She was the 2nd woman I saw before the turnaround. She walked over 100 miles at the ATY 48 hr. race a week ago. WOW!!! :)

After getting my chip cut off and collecting my medal, I talked to the Japanese fellow who flew by me. He ran a 3:42 chip time but started late so his gun time was 4:12 and placed 3rd even though the 1st & 2nd guys ran chip time of 3:59 and 4:11 respectively. He was really bummed. Went to congratulate the 52 yo woman who beat me in my division, she's from Canada. Our division (50-59) has the most runners (13 women, 15 men).
I felt good for my effort, 5th out of 39 women (the 4 women who beat me were all younger than me) and 23rd overall of 95 runners.

The medal for all the different race distances was the same...kinda lame.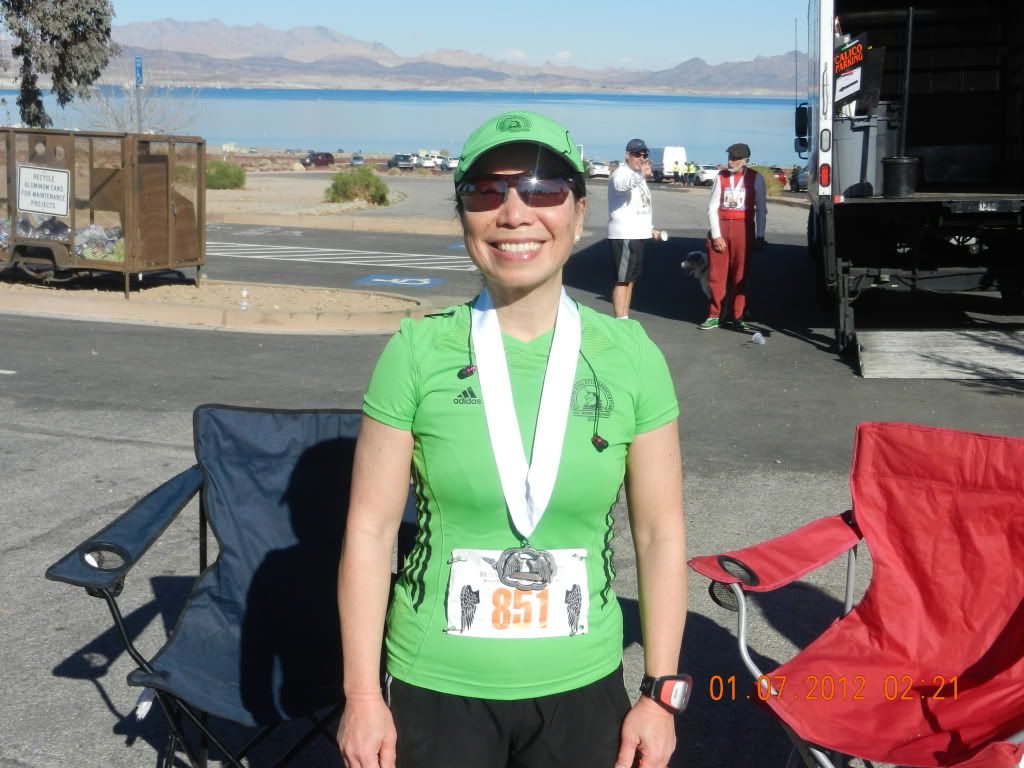 They had wash clothes and lots of food for the runners at the finish picnic area: chili, chicken noodle soup, corn chips, all kinds of baked goods, hot chocolate, banana...

In the afternoon, my PRM and I went sightseeing and walking on the Memorial Bridge and Hoover Dam.
The bridge was near finish when I was here on Oct 31, 2009 running the Hoover Dam Marathon. It's fun to come back and walk on this finished project, a most amazing engineering marvel. It was VERY WINDY.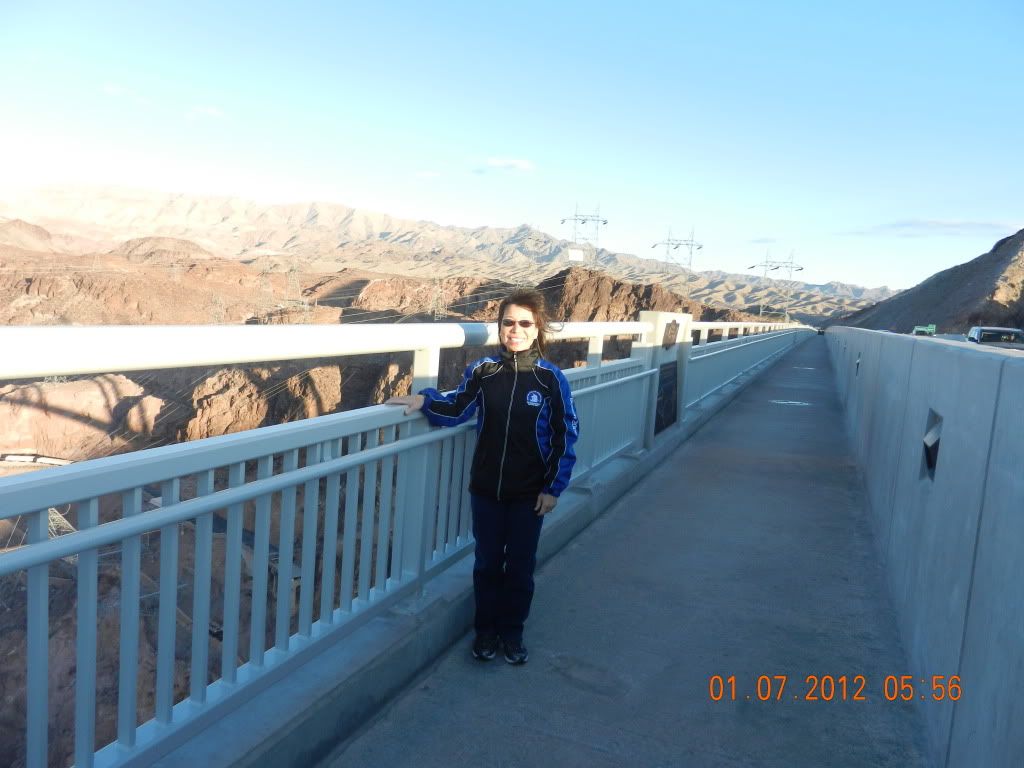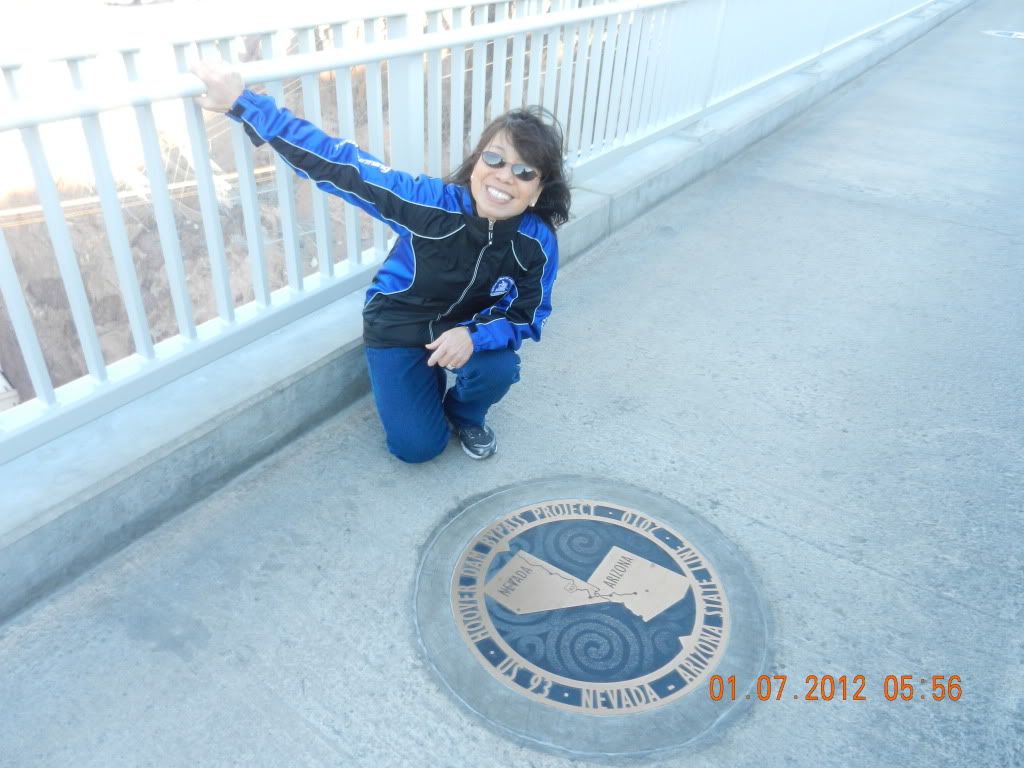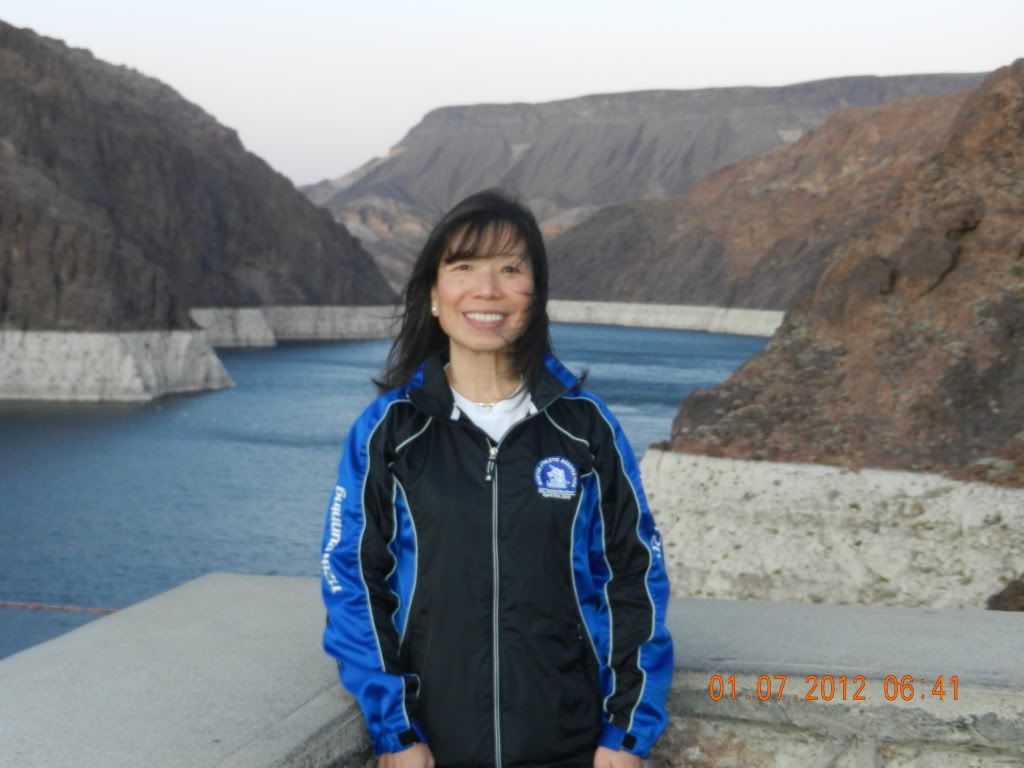 It was a FUN trip with a NICE 26.2 training run! :) :) :)