Tossed and turned all night. I was so very groggy when the alarm went off at 4:30am. Shouldn't have taken the Tylenol PM so late! Got ready in SLOW motion. :) Lowell made me instant oatmeal while I ate a yogurt on the way to the bus ride. Marcie called and said the last bus is ready to take off waiting for us and Lowell has Marcie's bib/bag. Have I ever mentioned that it is Lowell's goal and desire to be the last person on the last bus EVERY STINKIN' TIME? No difference here especially when the RD knows him very well. He is one of the sponsors of this marathon and this being his 101th...ROCK STAR!!! :)
Got to the start with 10 min to spare. SO many people rushed up to greet us...Bill Mandler, Lance Clark, Dana, Brett B., JoEtte, Amanda, Karen, Evan, Holly and many others can't remember...I was too groggy and sleepy to respond properly. Ate my banana while waiting in the pop line. Got out of the pop and immediately hugged by RAD who had to dash off to the pacers position.
Time to shed clothes and walk to the start. I was seriously so groggy that I just wanted to lay down and sleep. Took couple inhaler and dropped everything in the bag.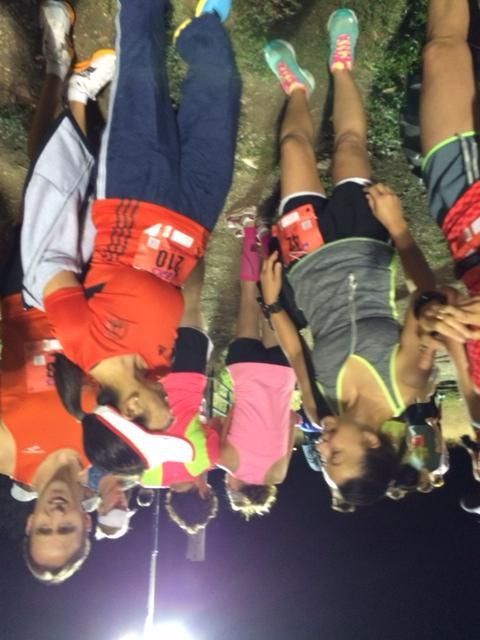 Someone took group pictures and I don't remember anything else other than being ushered toward the start. Star Spangle Banner solute with Dana (Lowell's nephew running his first marathon)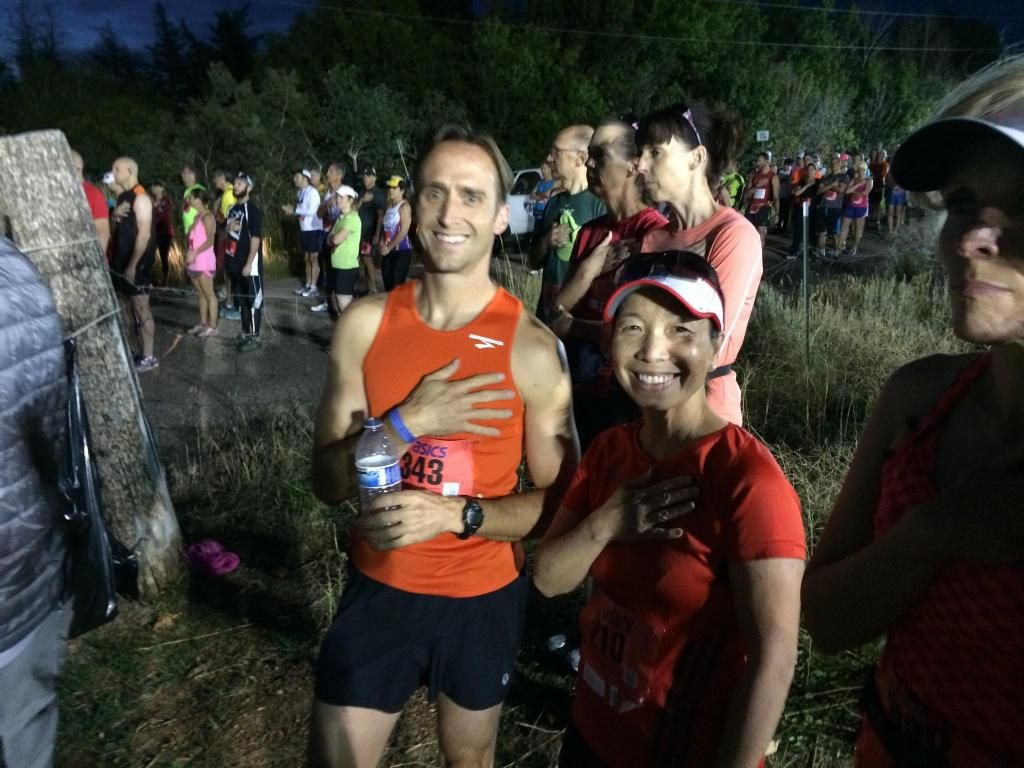 We stood by the start watching and cheering as each pace group passed. Marci went with RAD's 3:50, Brett, JoEtte and Amanda went with the 4:00, Lowell, Brett, Karen, Evan, Dana...went with the 4:15. I stood there alone and waited for the 4:30 to pass then jumped in with the 4:45. It was dark, cold with a hint of Fall air. I think very fiber in my body is asleep!
I tried to hang with the 4:45 group but it was just too hard to hold a 10:53 pace on downhill. So I found myself running comfortably a couple minutes behind the 4:30 group. It was a gorgeous morning as the sun peeked over the horizon. I chatted with a lady from Texas for the first 5K then she pulled back. I passed Kalita Ford seeing her favoring one leg. I gave her some encouragement. She responded that I would beat her because her knee was bothering her. I bid her good luck. (Side note: I always beat her anyway because she runs 5:45-6:00+ hr marathons.) Anyhow, I picked up lots of Marathon Maniacs and 50 Staters along the way to chit chat with.
At the mile 7 hairpin turnaround, I got to highfive our friends in the 4:15 group running down, did jump-shots for the photographer. Finally I felt awake, needed to make a potty stop, ate a gu, took water from the littlest volunteer. I LOVE this stretch of the course, beautiful green hills and valleys. I saw a cow galloping across a ridge in the hill ahead. Others thought it was a moose.
I missed running with my friends on this rather special marathon, my 50th! I pushed away any sad or lonely feeling. With a prayer and song in my heart I thought about how I need to be strong, to have faith and trust in God that He will heal my husband, my eternal companion. I would run each step for him, visualizing the nephrons and glumerulis waking up and doing their job in my husband's kidneys. My daughter and her family would be starting their long drive home to Houston, hubby would be getting ready for dialysis. My other children would be busy with their scholastic pursuits and nurturing children of their own. I know my Heavenly Father is watching over me. I kept thanking Him for all these wonderful blessings and gifts. My heart was overflowed with joy and gratitude! :)
I caught up to Elisa, the 4:30 pacer and listened to their conversations about their husbands cleaning homes. With nothing to offer in that conversation, I passed them around mile 10 and caught up to a guy from New York. We chatted and ran together for couple miles. I lost him when I stopped to take a Gu from the volunteer at the turn and up the hill to mile 12 aid station. Saw a sign "Happy 100th Lowell, we love you!" That has got to be from Holly who lives by there. Oh, how my mind was flooded with memories of running through this stretch in the past looking forward to the start of the Half where hubby would be waiting and cheering with camera in hands and I'd give him my gloves or jacket. I passed the half mat and looked down at my watch for the first time, 2:12:22. Hmm, shouldn't have passed the 4:30 group, it may come back and haunt me!
The second half of the marathon is rather boring. Now running mostly alone, I started to form in my head what I would talk about on Sunday in the Pocatello Highland 4th Ward. My thoughts would be interrupted by passing trains. I found myself slowing, and the sun started to beat down on my back thru the rollers in mile 15-21. I gave encouragement to the Half-marathoners as I passed them. Took 3rd gu at mile 18. I asked for ibuprofen at the mile 20 aid station from some awesome "LIFE GUARD" shirted guys (HS swim team?). I ran up the hill under the freeway overpass, only walked through the shady spot created by the freeway pillars. Right at the top, Elisa passed me. Wondered how long she's been reeling me in! That woke me up and I began to look forward to reaching Century High School where I hope Susie and Kelsey would still be cheering. They could very well be gone after Lowell and everyone else have run past. But nope, there they were yelling and cheering my name. I LOVE the signs they made for Lowell. They asked how I was feeling. I said: "Good!" They said: "Yeah, you're smiling! Good! We'll see you at the finish!"
I tell myself, the last 10K is when the race really begins. So I kept my eyes fixated on Elisa's 4:30 sign (she's now running alone, what happened to her group?)...but the gap was growing...my legs were tired with twinges of cramps in the shins. I drank gatorade and poured water on my head at each aid station then quickly got going. Saw a sign that said: "You better run fast! I just farted!" had me laughing out loud. :D A good headwind is now blowing and I thought to myself, I ain't gonna draft off anybody now! :) I passed a girl with a sinklet reading "Idiot Running Club". I wondered what Lowell would say to her! Haha! :)
Around mile 24.5 I passed a couple who called out my name. I said Hi to them and recognized that they're Rhett's Pocatello friends whom I was introduced to and had dinner at their house a few years back. Russ said: "Now I'll have to tell Rhett that you beat me again!" All I could say was: "So good to see you. I loved the time you had us for dinner at your beautiful home. SO NICE! Say hello to Rhett for me!" Around mile 25 another guy yelled, Smooth! It was TJ running the half with Carolyn. I wanted to give him a hug but I was afraid I would stumble. Then he called out loudly: "LOWELL, you better hurry up, Smooth is catching you!" With that I saw Lowell about 200m ahead with Karen running by his side. He didn't hear a thing because I sneaked up to him and was about to pinch him...but I behaved and said: "You lied!!! You said there would be NO headwind!" He must be tired because Karen came to his defense and said: "But the headwind cool us off nicely!" Then Karen started to latch on with me and we ran together. Lowell said: "Smooth does that everytime! No matter how much I waited, she'd always beat me to the finish!"
We passed Elisa just before mile 26. I think she must've come in too early as she was slowing, I hope anyway...because I was afraid that my shins would cease up if I suddenly change pace. Somewhere after we passed the Zoo sign, RAD came running towards us to run me in. She had great encouraging words like "you are running so good! sub-4:30. I see Elisa's face saying ~ 'how am I going to keep up with Smooth?' How's your legs? no charlie horse?" I just nodded, I just fixated my eyes to the finish searching for the finish clock which was nowhere to be seen! I heard my name announced, raised my arms as I crossed the finish and stopped the watch reading 4:28:38. Official time 4:28:34!!! I continued to jog in circles then collected my medal and turned to wait for Lowell. A mob of people ran over to him as they announced him running his 100th (actually 101th because he ran Timp with me which was not planned). Pictures galore by his friends and families!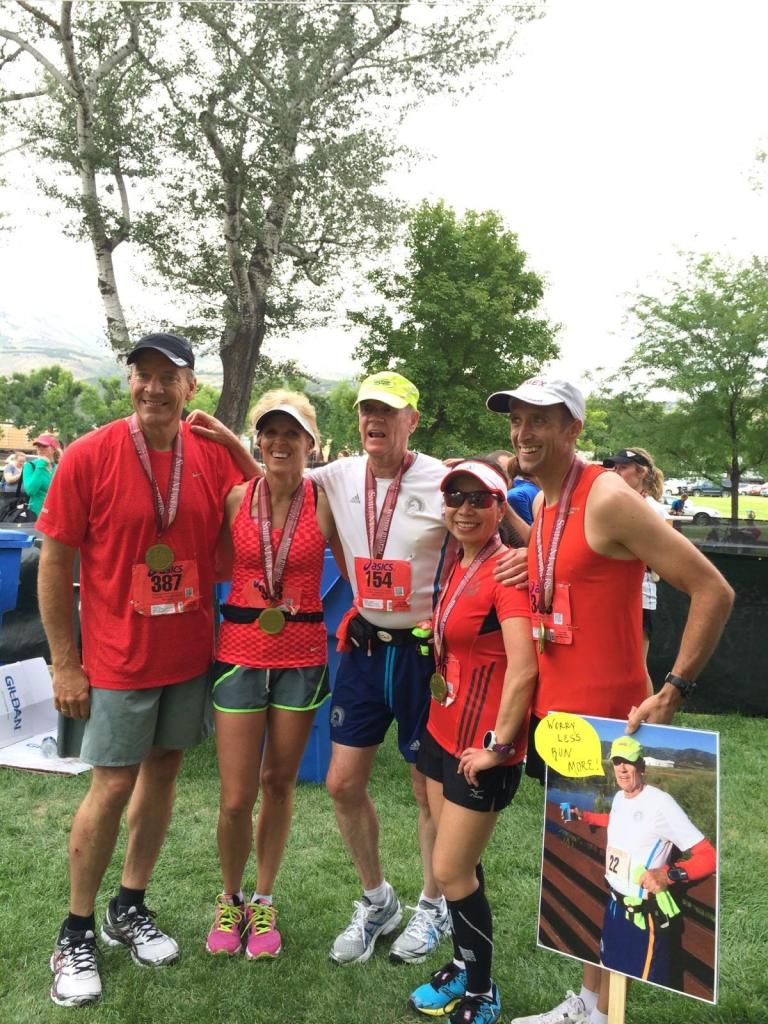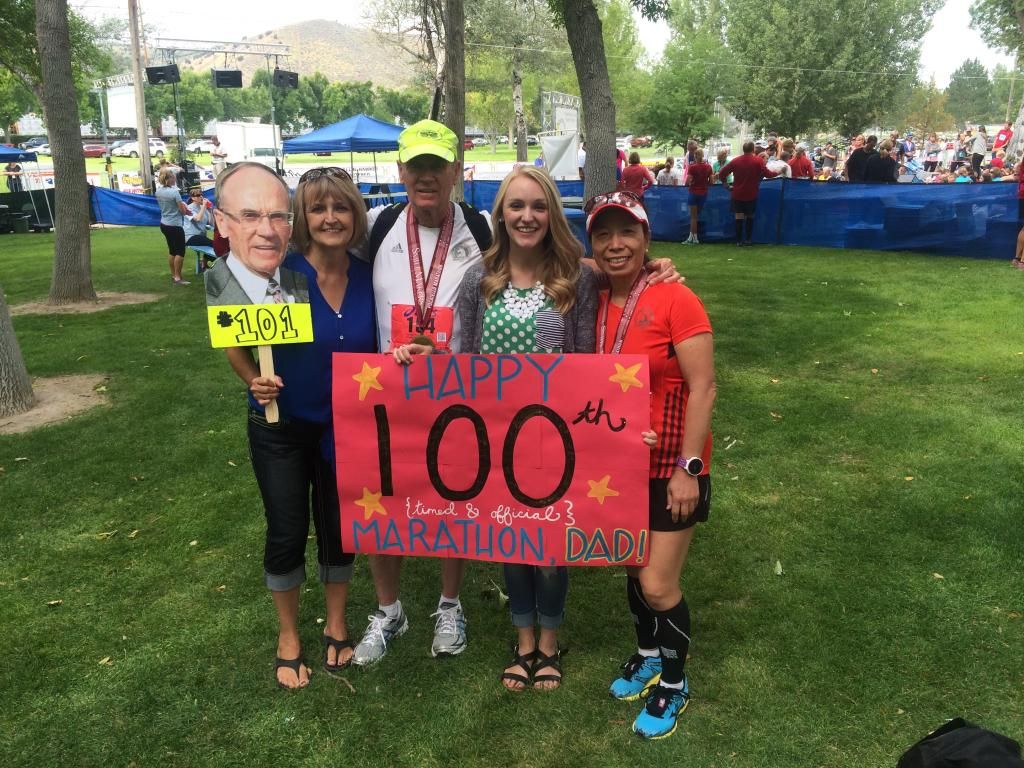 Lowell and I sitting in the boot (trunk) of Susie's 5 passengers SUV... us stinkin' stubborn runners! :)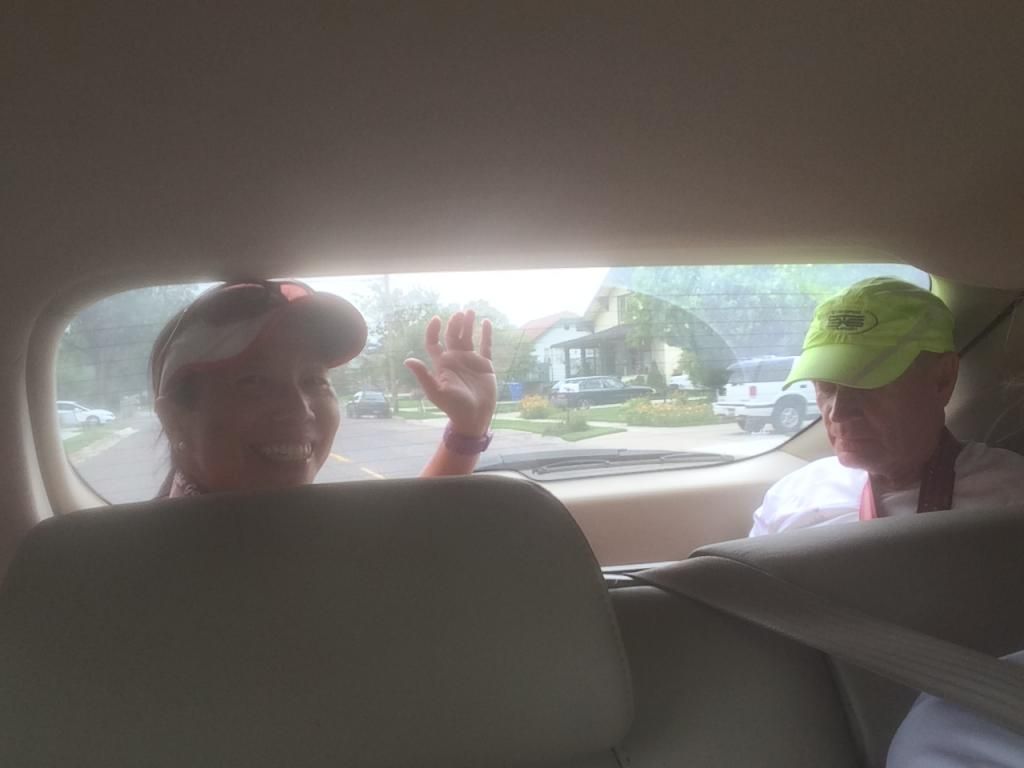 After getting home, Lowell and I walked Molly in the golf course. I walked barefooted suggested by Lowell, it felt great! Then we texted Larry the direction to Lowell's. He drove straight after dialysis from So Jordan to Pocatello just in time for post-race dinner at TJ's. We had a GREAT DAY!!! I am so happy to be part of Lowell's 101th marathon celebration and most of all encirlced in the love of his friends and families...such WONDERFUL and LOVING folks! :)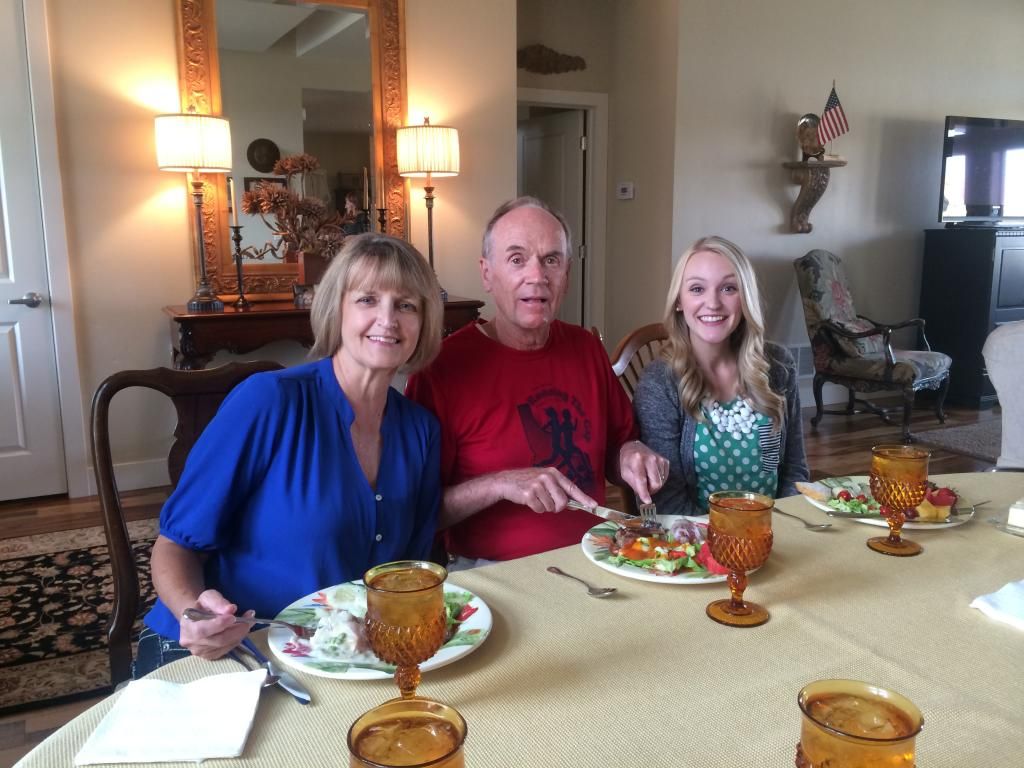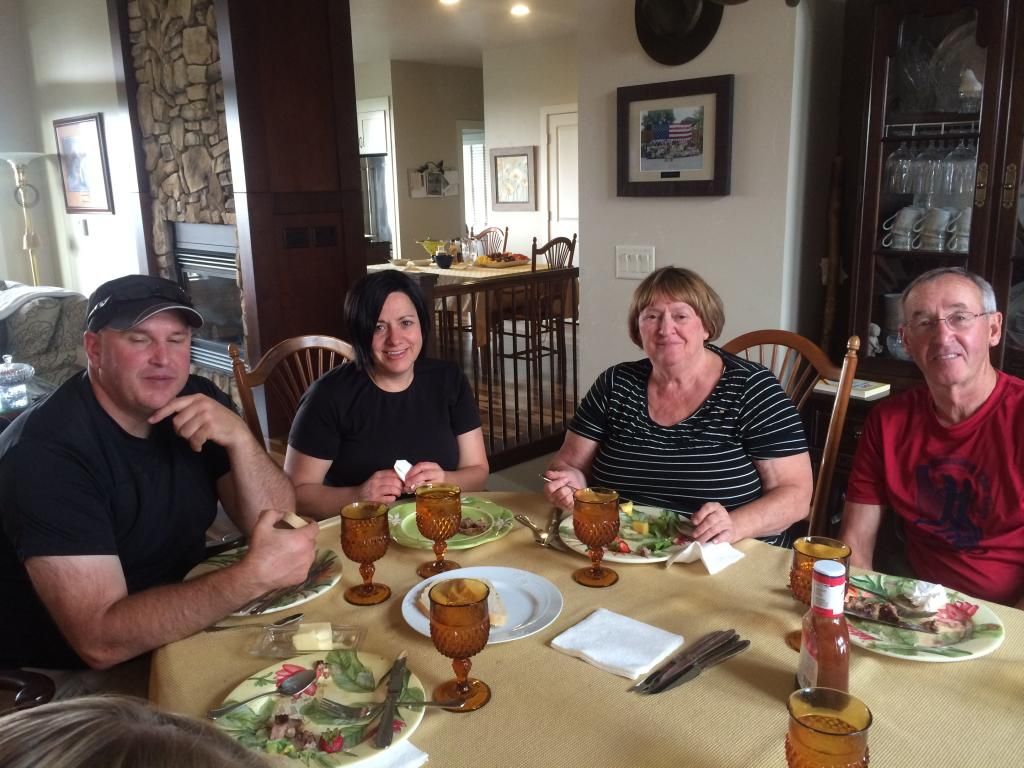 After dinner, Lowell and I walked home from TJ's house, not wanting the day to end. :) :) :)
15th Pocatello Marathon, my 50th marathon
Summary
| | |
| --- | --- |
| Distance: | 26.33 mi |
| Time: | 4:28:34 |
| Avg Pace: | 10:10 min/mi |
| Elevation Gain: | 368 ft |
| Calories: | 2,277 C |
Details
Timing
| | |
| --- | --- |
| Time: | 4:28:34 |
| Moving Time: | 4:28:38 |
| Elapsed Time: | 4:28:39 |
| | |
| --- | --- |
| Avg Pace: | 10:10 min/mi |
| Avg Moving Pace: | 10:12 min/mi |
| Best Pace: | 8:18 min/mi |
Elevation
| | |
| --- | --- |
| Elevation Gain: | 368 ft |
| Elevation Loss: | 1,907 ft |
| Min Elevation: | 4,461 ft |
| Max Elevation: | 6,001 ft |
Weather
55°
Feels like 55°
6 mph WSW wind
Humidity 72%
Source: KPIH