9th SGM. Marathon #52. 5th marathon this year; over the last 4 months.
Woke up at 3:15, got 2.5 hours sleep. Drove to Worthen Park at 4:30. Plan was to meet Teena at 5 by the tennis court. :) The bus lines were very LONG and moving very slowly and there were NO buses!!! Waited with Kelly and Tyler S, Lowell, Suzette, Seth and Teena for over an hour for the bus to come! Ate my banana and yogurt, hit the port-a-potty in the park. The wait was very stressful if not for the company of good friends. I think we finally got on the bus around 6. What a sight at the start to see flags waving southward which means tail wind, YAY! Took couple of pictures. Made a quick trip to the PoP; then it's time to drop off clothing bags. So bummed that I didn't have a chance to look for MarcE, Kathie, Brad, Lark and RAD. Lowell and I jumped in with the 4:15 pace group. Based on my TOU time of 4:18:33 two weeks ago, I have these goals in mind: Ecstatic (sub 4:10) Happy (4:15) Satisfied (sub 4:25 BQ).
Lowell and I had a lot of fun making new friends and reading all the signs posted on the road side, some of them were hilarious. My nose started running almost immediately so it was very annoying. I could not get in a good rhythm. I'd slow way too much on the ascend and try to make up time on the descend so we were hanging well with the 4:15 group. On Veyo I tried to run but my lungs would not co-operate so I'd take 10 seconds walk breaks here and there. It was very disheartening when others were walking as fast as I was running! 5K came in at 29:58. 10K in 57:54. Got to the half in 2:08:35.
I started to pull away from the group in the downhill miles of 15 and 16. It was in the 17th mile that I ran into a dear friend, Lark, whose goal was also to get a BQ of sub 4:25. He had surgery a year ago when he broke his leg in a bike accident. I was so proud of how well he was running and pushing through these challenging hilly miles. I felt so grateful for the ability to run and absolutely love love love the beautiful colors and scenery that SGM course is famous for! :)
After walking and taking in fluids at the aid station just before mile 19, I proceeded to run when suddenly my shins started to cramp up bilaterally. The muscles in my lower legs were convulsing wildly. Lowell passed me as he cheerfully introduced me to a girl. I was in so much pain that I could not go with them nor the pace group. I tried lengthening or shortening my strides to no avail. I even got a side-stitch like cramp in my left flank so I tried to breath deeply. The cramps subsided a little on the incline; only to return on the descend at mile 21. I took my last and 4th Gu with couple of salt caps and ibuprofen. I had gu'ed at 7, 13, 17 (one salt cap), 21 (2 salt caps & ibuprofen). I prayed with all my heart that charlie horse would stay away. I'd stomp hard when the calf muscles threaten to cease up. I tried singing (in my head) "Call to Serve" and repeating my mantra "smoothfastrong" which helped very briefly.
Saw Susie cheering at the bottom of Bluff. She asked how I was feeling, I mouthed the word "cramp" pointing to my legs and tried to smile away the pain. I took a popsicle handed out by a little kid and ate couple of bites which tasted good but the pain was knotting up my stomach. I willed myself to keep one foot in front of the other as runners passed me left and right....SO different from TOU where I was the one passing other runners. I was grateful for the spectators' cheers during those painful torturous two miles. As I passed the mile 26 marker, I attempted to give a little push but my left calf immediately objected and I nearly fell. I heard hubby cheering and turned to wave to him as I stumbled to the finish putting on a brave smile. I did not look at my watch during the last 5K so I was very happy to see that I finish in 4:19:43, although a little disappointed that I ran 61 seconds slower than TOU.
Supper happy to see Brad (Maynard), TJ, RAD at the finish. EXTRA excited to find out AmberG won!!! It was a GREAT day and SGM weekend!!! And hubby did well waiting for 3 hours at the finish...not an easy feat for him!
Some self evaluation and thoughts ~ I did the best I could with the limited and dismal training over the last 19 weeks. I started back running in the middle of May when I returned home from Australia. I did the Ogden Half Marathon (on a whim 'cause Lowell got me an entry from the RD at the Expo) on May 17; finished in 2:35 and cramping the last 2 miles. Then I quickly ramped up the mileage and signed up for some marathons as long runs: Sogonapmit in July, Park City in Aug. Pocatello and TOU in Sept. I did no speed work, zero cross training and very very little hill running. My nutrition was sub-par. I cannot remmember the last time I had an uninterruped 6 hours sleep. Life has been rather stressful to say the least.
OK, enough excuses...now what to do to move forward. Running will continue to be my therapy and give me joy. I love the marathon distance. No matter how many marathons one runs, the last 5-10Ks are always the hardest and one always feels a sense of accomplishment or huge relief when one crosses the finish. I love the challenge of 26.2. I love the journey. I love how it makes me a stronger person in all aspects of my life. The key is to find the right balance and never give up. Each run, each race is a gift, to be opened and accepted with joy and gratitude! :)
Above all, I am forever grateful for wonderful friends!!!! :) :) :)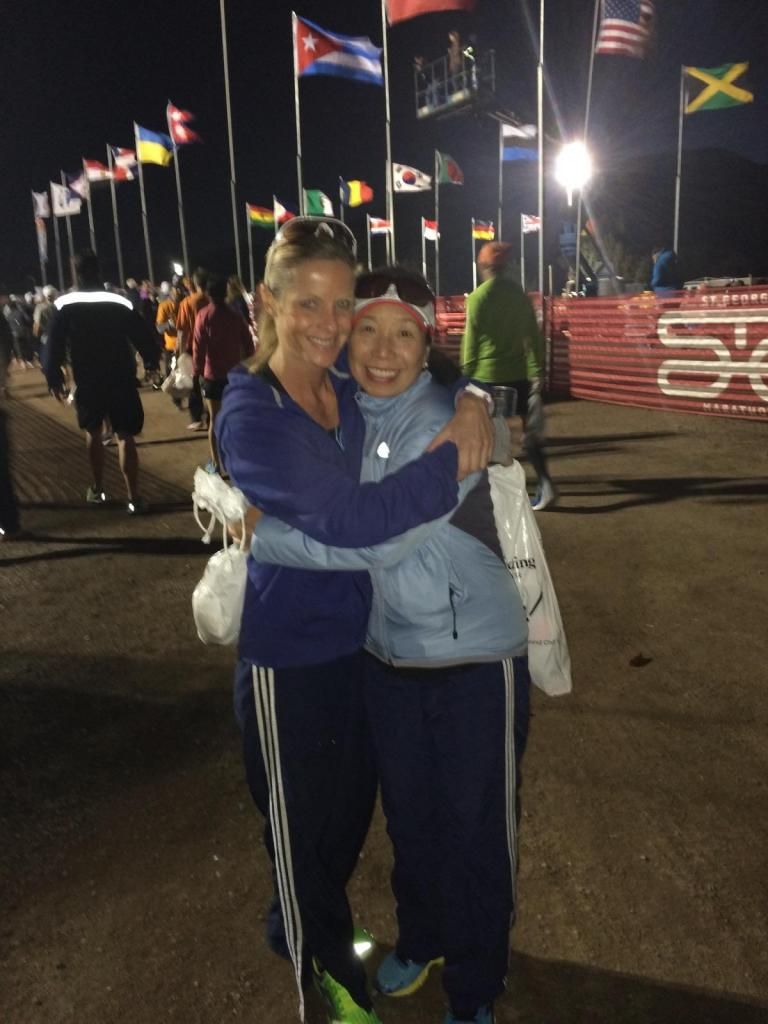 Teena can carry someone THREE times her weights/size!!! :)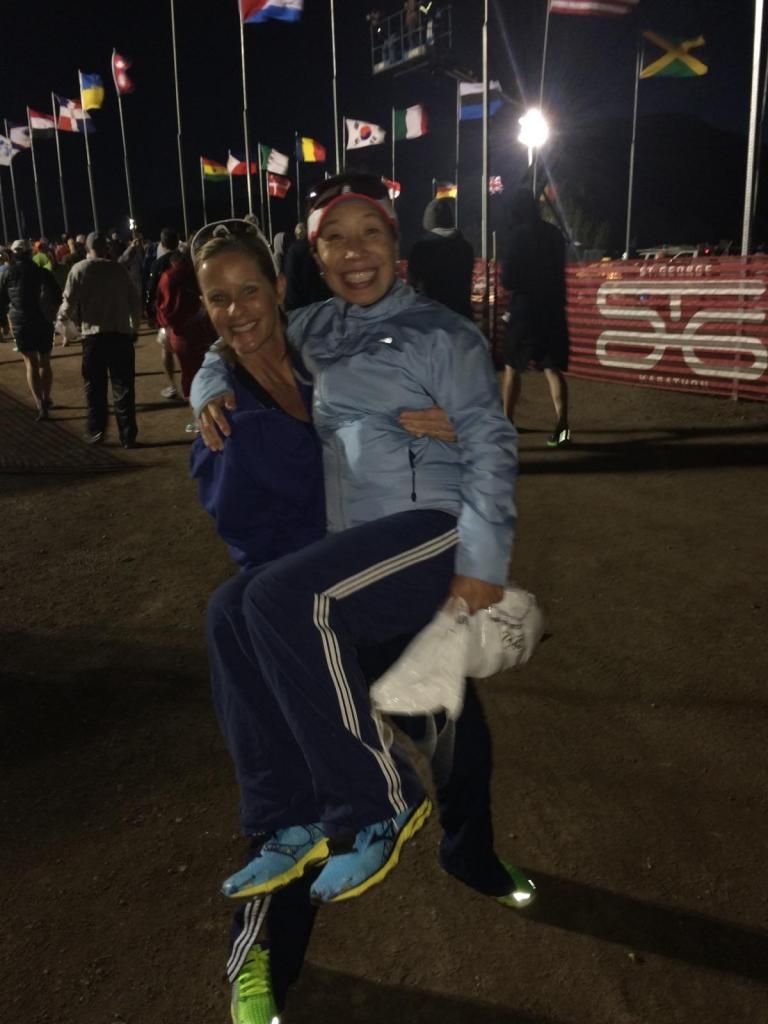 I can barely lift ONE of Lowell's legs. :)
Summary
| | |
| --- | --- |
| Distance: | 26.25 mi |
| Time: | 4:19:49 |
| Avg Pace: | 9:54 min/mi |
| Elevation Gain: | 437 ft |
| Calories: | 2,265 C |
Details
Timing
| | |
| --- | --- |
| Time: | 4:19:49 |
| Moving Time: | 4:19:26 |
| Elapsed Time: | 4:19:49 |
| | |
| --- | --- |
| Avg Pace: | 9:54 min/mi |
| Avg Moving Pace: | 9:53 min/mi |
| Best Pace: | 7:49 min/mi |
Elevation
| | |
| --- | --- |
| Elevation Gain: | 437 ft |
| Elevation Loss: | 2,986 ft |
| Min Elevation: | 2,688 ft |
| Max Elevation: | 5,243 ft |
Weather
Sorry we do not have weather for this activity.