This is NOT a race; but a "memorial marathon" for Beth, my neighbor and friend whose father passed away the night before SGM and she didn't get to run it. It's also a "birthday run" to celebrate my 54th b'day. Oct 16 is my legal birthday and just so happen Crockett has organized a 50/100 mile run/race on the Pony Express Route in the wild west desert.

We loaded up our crew wagon and left my house at 6:40 am. Got to the start at Lookout Pass at 7:50 am. Temp was in the high 30's, cool crisp sky. There were about a dozen 100 milers and 1/2 dozen 50 milers. Leslie has already started at 6am. Saw jun and Twinkies. I ran with them the first mile or so while Beth took off with Crockett in the lead pack. It was nice to chat with jun and Riboldi.

Smooth, Beth and Wendy just before the count down at 8am. Jun's in red with white cap and Twinkies in yellow in the background.

Ditched the jacket and gloves after the first stop at mile 5, the dirtygirl gaitors kept the rocks out of my running shoes. Listening to the Oct Conference talks (which were over 7 hours long that my son downloaded on hubby's iPod for me) helped the miles pass.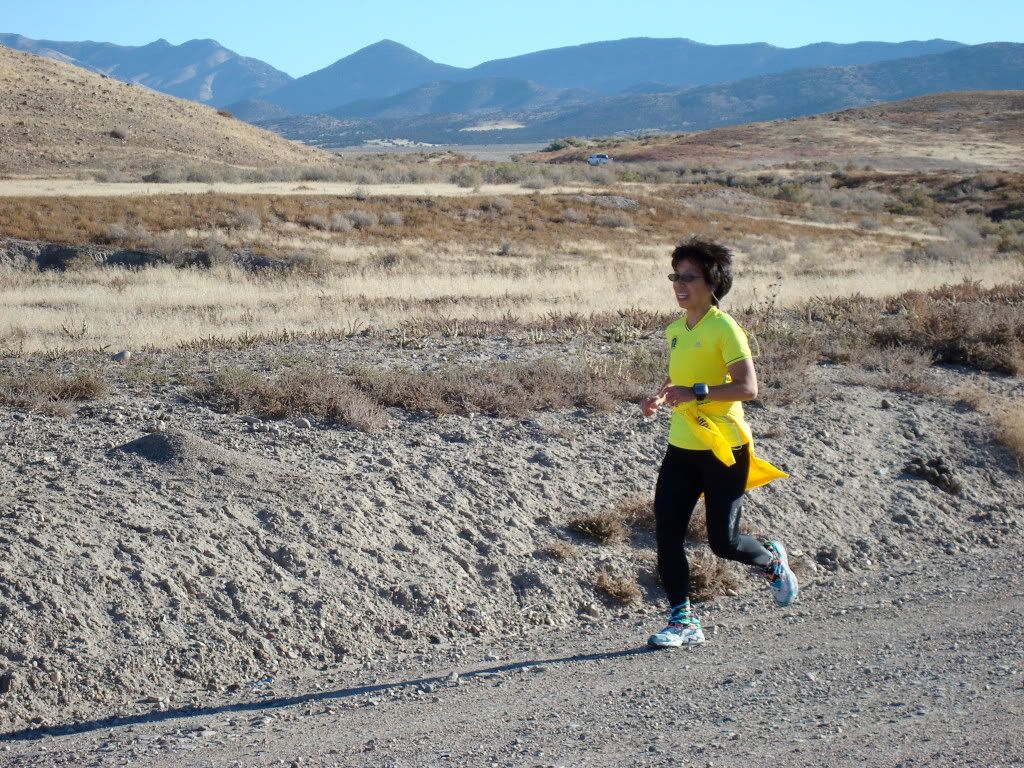 Beth's triumphant finish of her "marathon in memory of her dad" in 5:26:20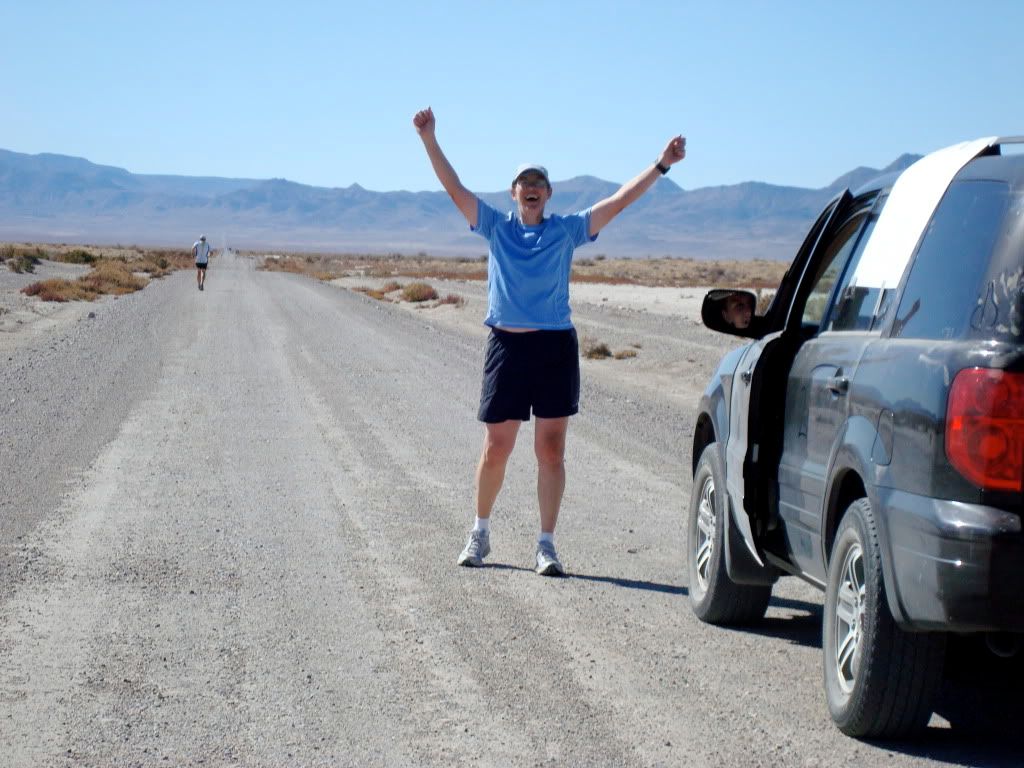 Beth's tears of joy upon receiving her medal. The footprint on the SGM'09 medal is appropriate since we followed the 50/100 milers' footprints along the Pony Express trail.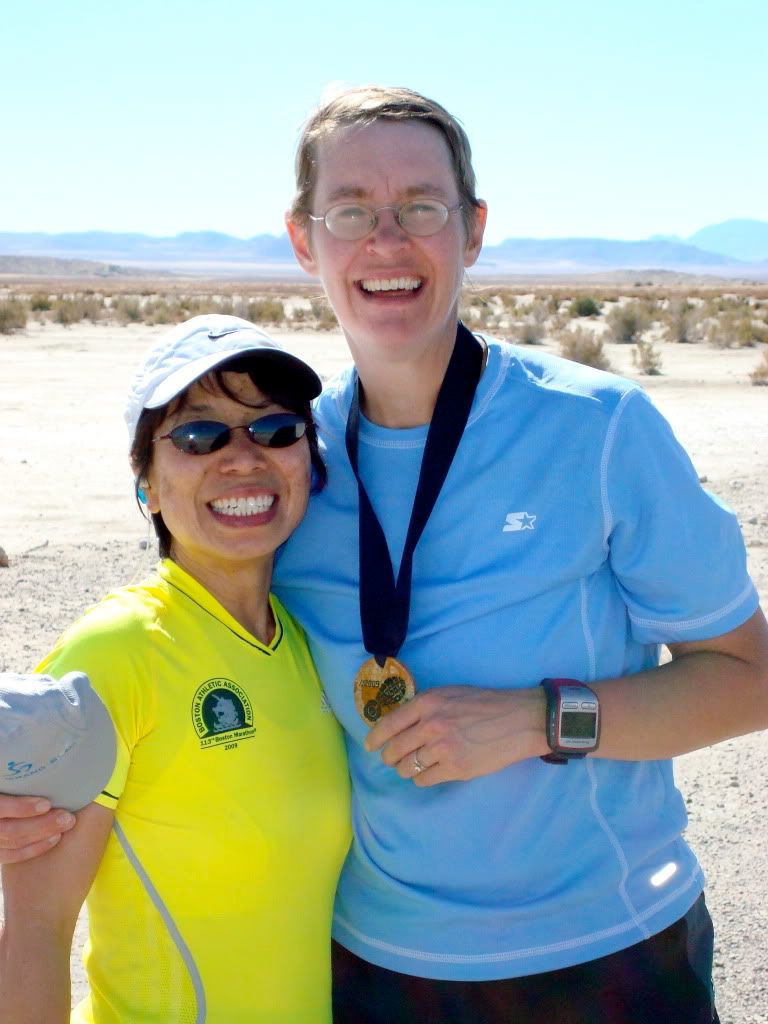 Beth, Smooth & Wendy in front of the crew wagon after Beth's finish. Wendy's son, Eric, drove when Wendy ran with Beth the last 5Ks. The poster says: Happy Birthday Smooth!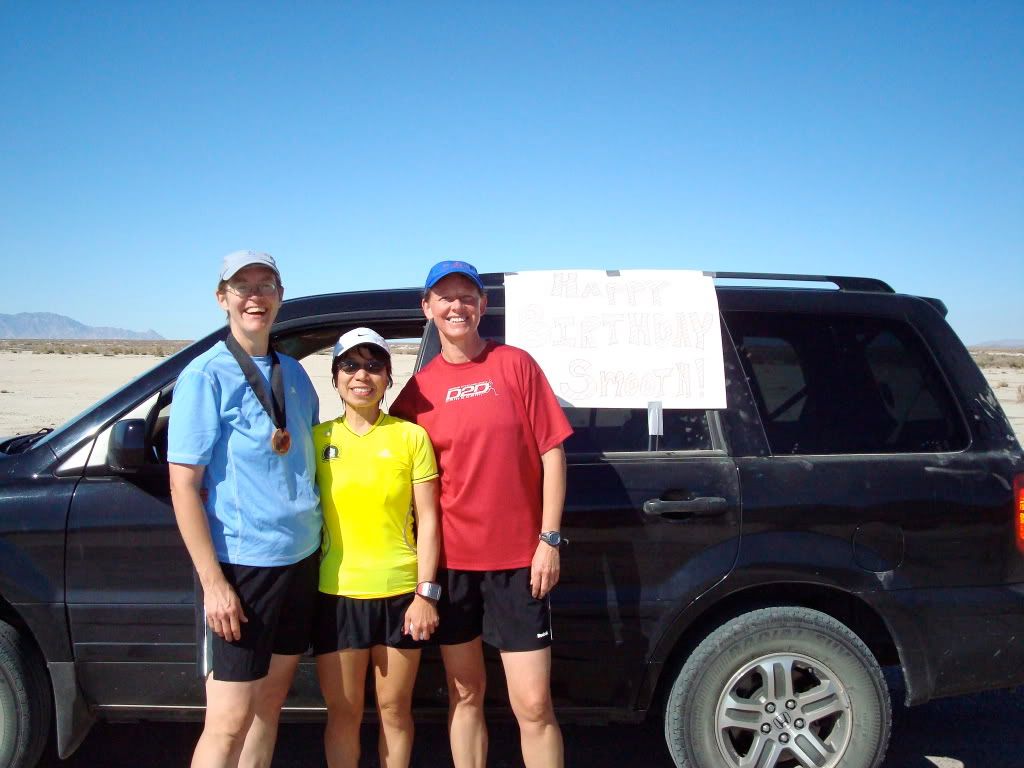 We ran "where the antelopes play". At Simpson Spring I changed my socks for the third time and doctored my blister for the 2nd time. I ate and hydrated well every 2 miles.
Wendy ran me in to the finish of the last 0.1 mile of my 54K. I expected to finish under 7 hours so I was very pleased with my time of 6:59:16, not bad for having run a 3:57 at SGM 13 days ago, had never trained on trails, stopped numerous times to run with Beth and the celebration at 26.2.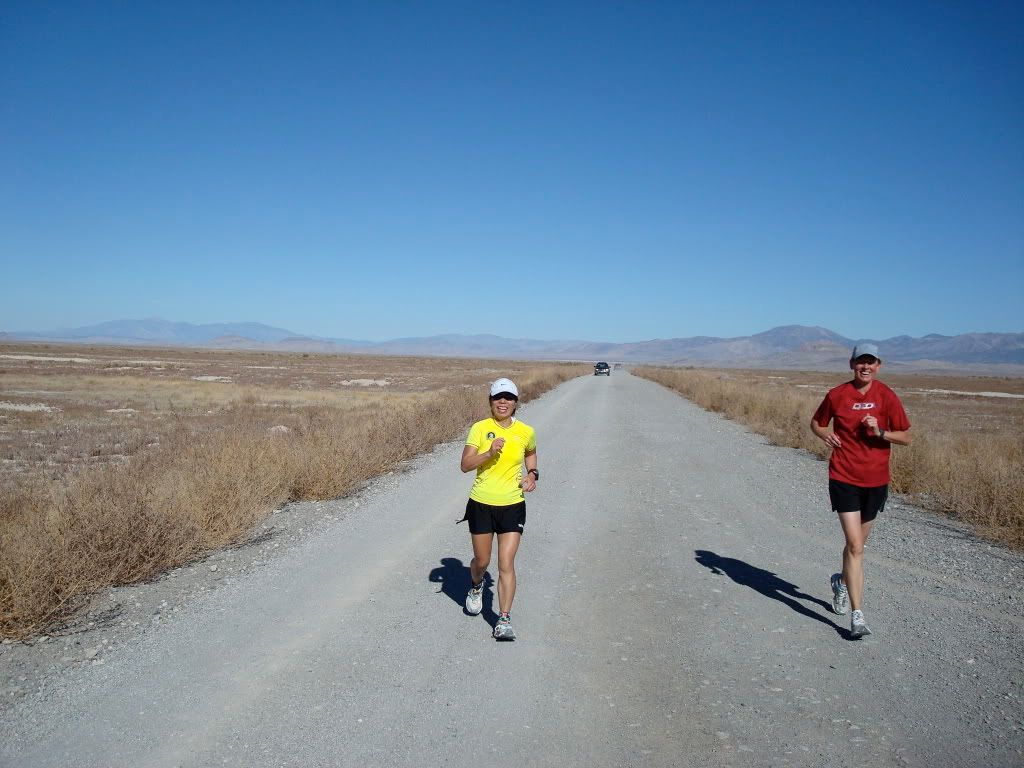 At the "finish" of my 54K (33.55 miles) around Dugway Topaz Well was a silo and this sign. Can't fathom that this is only a third of the 100 miles the others would be running. I was glad to be done just before 3pm when the temp was about 60.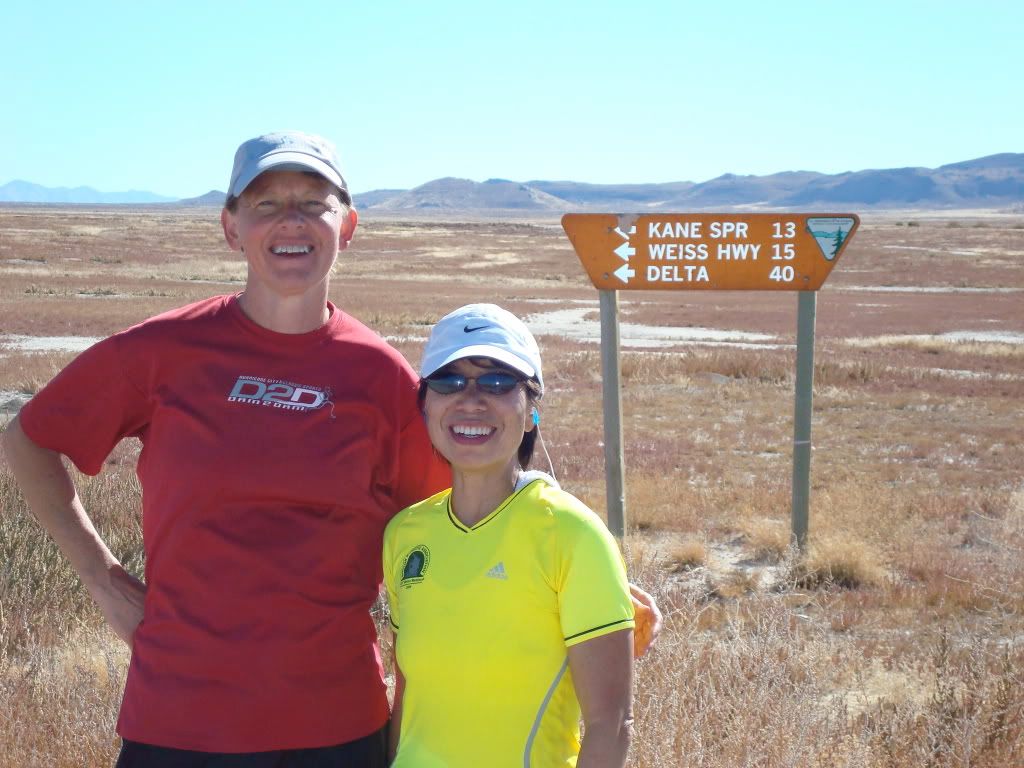 Me and my best friend, Wendy and her son, Eric, what an AWESOME crew!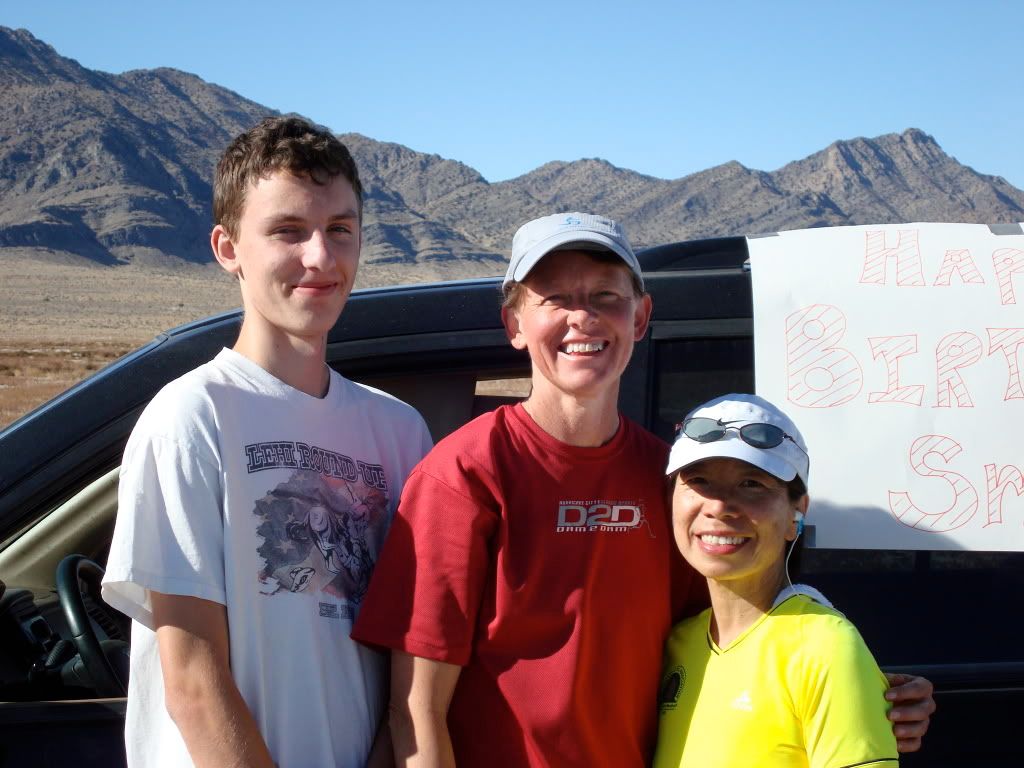 I had a FANTASTICALLY WONDERFUL birthday doing what I love with my favoritest people. Thought about Alex alot during the run. We drove back on the trail and was amazed at HOW FAR we had run. We stopped at Simpson Spring to be tourists. There were other tourists at that Pony Station. They had seen us and other runners along the trail and asked what we were doing and WHY? During the drive home Beth talked about her "frontier man dad" and his "perfect" funeral. We got home at 6:45 pm what a fun 12 hours adventure.

I consumed 5 bottles of water, 3 bottles of Gatorade, 1 can of Slimfast, 1 peanut butter sandwitch, 3 oranges, 3 bagels, 5 gels, 1 electrolyte cap and 3 electrolyte Enlytn strips on the course. For breakfast I had a banana, yogurt, EmergenC, water. Post run food was 1 Cup of Ramen noodles, 1 banana, chocolate milk, water, chex mix, Tropical trail mix and beef jerky. We went to Texas Roadhouse for dinner where I had an 8 oz sirloin steak, sweet potatoe, steamed vegetables and 5 dinner rolls washed down with 2 tall glasses of diet coke.
The legs are feeling pretty good, might loose couple of toe nails. Went for a walk with hubby the next morning.