:) Fun day at the Spanish Fork Half & 5K!!! :)
What a wonderful day for a FUN FUN FUN run at the Spanish Fork Half & 5K! This is one of the best organized small town race. The Half is an out-n-back with a hilly "lolly-pop" loop at mile 6-7, an honest course with beautiful scenery of the mountains and farm country.
http://www.mapmyrun.com/routes/view/50694110

Hubby and I car-pooled with John, Wendy and Karen to the start arriving at 6:30 to pick up our packets (love this year's race shirt), use the park bathroom, take pictures, etc.
It's like our casual/normal Sat. run except with bibs on! :)
This is hubby's first ever 5K. Gotta show the bib! :)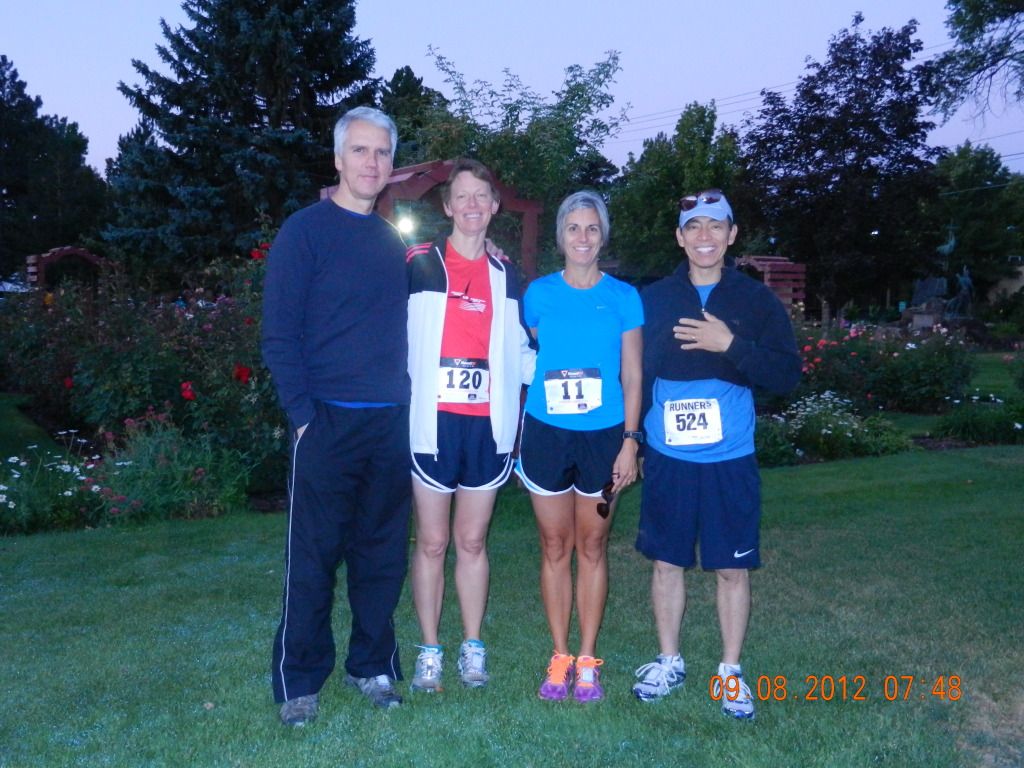 Perfect running weather with temp in the low 60s, calm, clear sky. The Half started at 7 while the 5K at 8. Gave hubby and Ry quick good bye hugs then went to look for Teena. Found her lining up in the front as well as Josse and McKenzie. Gave them good-luck hugs then went to line up at the back with Karen and Wendy.
I've only run one 5 miler all week since my legs were still sore from the Pocatello Marathon a week ago. Goal was to take it as a recovery/assessment run keeping the heart rate in the mid 160s. We ran together chatting away, enjoying the sight, sound and smell of the farm county. We were serenaded by some cows! :) Mile 1-5 ~ 9:40 (157), 9:20 (159), 9:23 (162), 9:52 (164) walked briefly on the short uphill, saw a peacock crossing the road, 9:20 (162). Walked while drinking at each aid station.

Karen started to pull away on the uphill. I kept a steady effort never walked, keeping the heart rate and breathing even and easy. At the crest of the hill was a 90 degree left turn where I looked back to see that Wendy was about 30 seconds behind. I slowed to wait for her. In 2008 when we ran this race side by side, it was here that I started to sing Primary songs to encourage her. Not this time, as my mind was drowned out by the pain of my quads. Normally I would tear down the downhill but not today. I took short easy strides and watched Karen disappear. I was very happy that my legs did not go into convulsion once the course flattened a bit. Mile 6-8 ~ 10:19 (161), 10:26 (162), 9:48 (160) Gu'ed at mile 8 aid station where Wendy put up her feet to ease her neuroma pain; so I went ahead hoping she would catch up.
Now running without my buddies, I focused on catching, passing and visiting with the runners ahead (met a 60+ yo gentleman from Venezuela, a young girl in baby blue tops would sped past me only to walk 200m later, I'd encourage her to run with me when I pass her. She finally lag behind around mile 11). There was a gal in lime color singlet that refused to let me pass. I think she might've run bandit b/c she peeled off after crossing the road where the cops stopped traffic.
I was so happy to see Teena running towards me with a mile to go. Also saw Josse, Melody and JeffL (I think) running their cool down miles. It was so very comforting to have Teena run alongside me. I shall treasure this moment forever! :) She told me happy news of Sophia's AWESOME 5K race, 5th overall in women and 1st in her AG which I'm not surprised! :) She's as speedy and awesome as her mom who ran a course PR that will surely garner a sub 3:20 at SGM! :) She also told me that my sweetheart took 2nd in his AG for his first ever race! :) THANKS SSF for running me in! Mile 9-finish ~ 9:19 (165), 9:32 (169), 9:33 (168), 9:24 (170), 9:20 (172).
Watching the finish clock, a little disappointed to see it ticked past 2:05!
Cheering Wendy in who finished in 2:08:36 and took 2nd in her AG! :)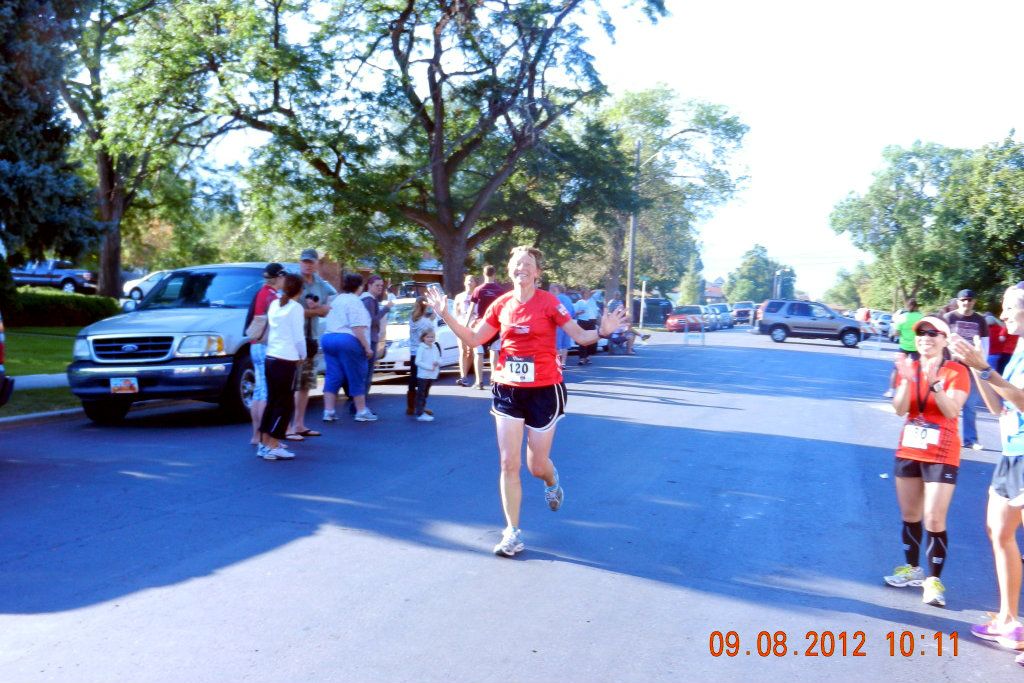 Wish I could've watched Sophia, Ry and hubby on their awesome 5K! :)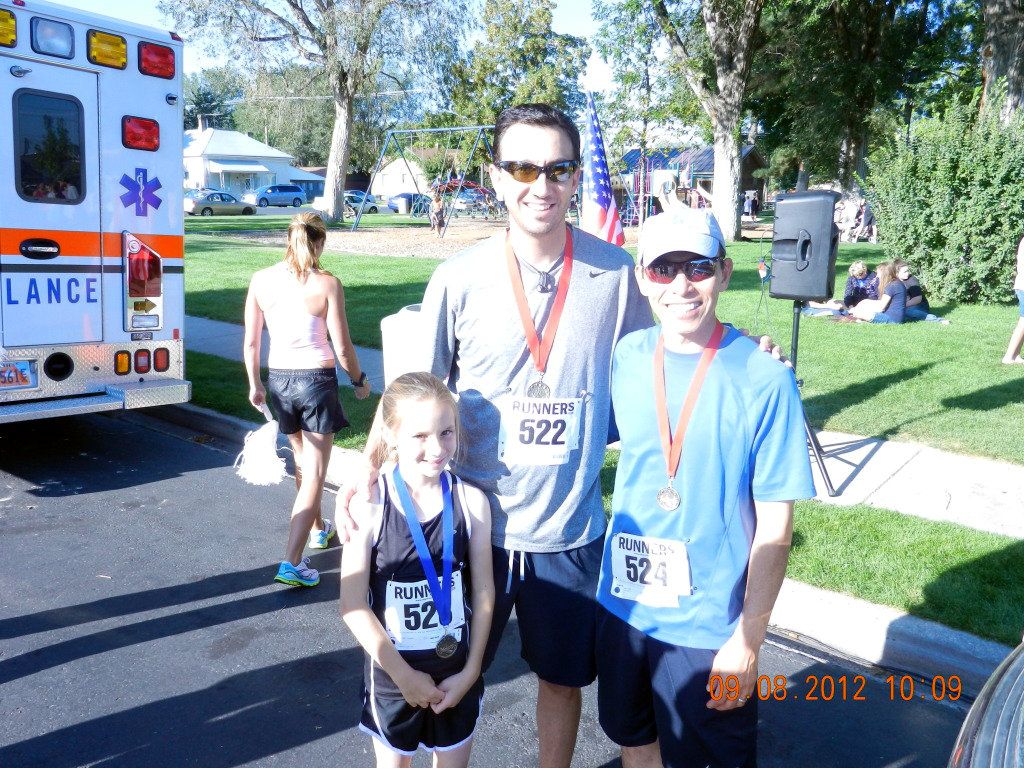 What a cute cute cute running family! :)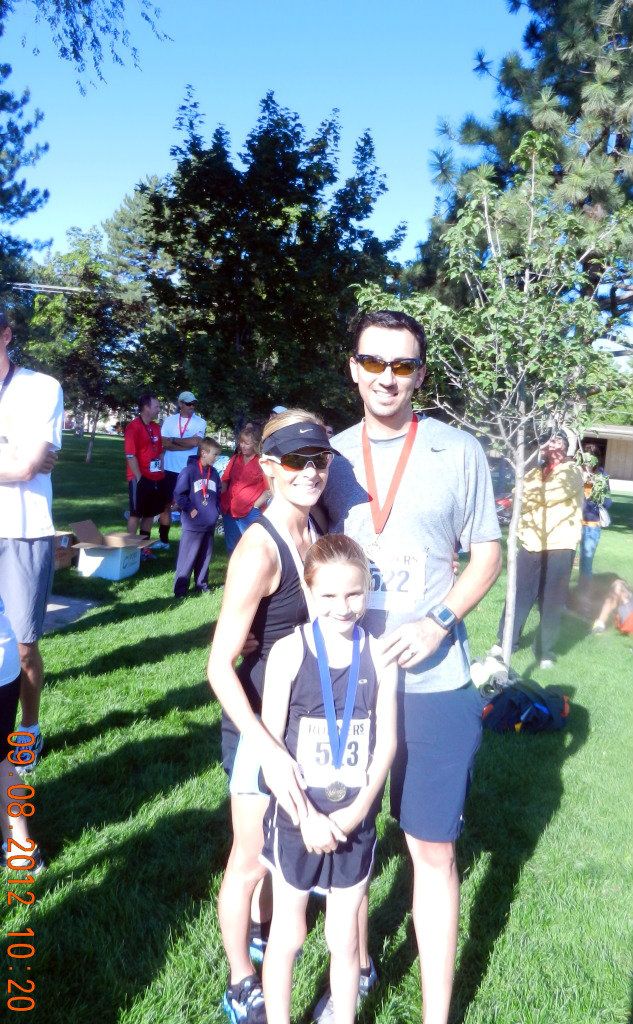 It was so GREAT to see Rachelle at the finish and hear of her AWESOME 5K PR!!!
Check out our hardwares! :) Yes, we all placed in our respective AGs! :)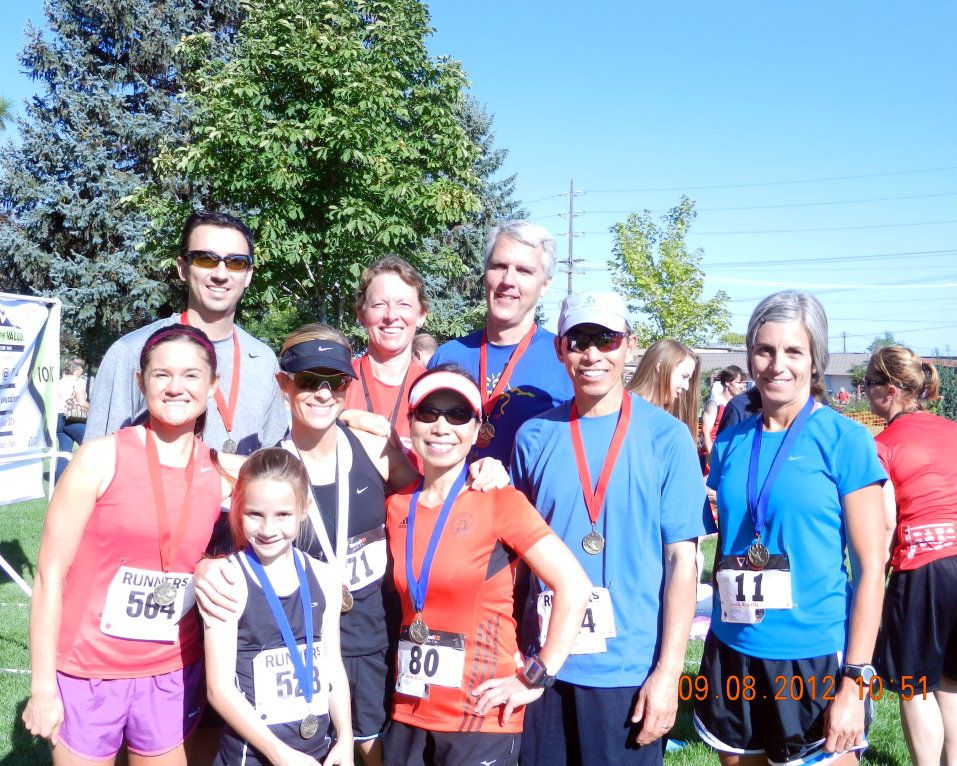 Special thanks to Lowell who made this available and to the wonderful RD, Kelly and his many volunteers especially Tom and Kim Lee who worked so so so hard to make this such a great race event! :) :) :)

**********************

Post race ssessment: Legs were fine after the race, just slightly achy when sitting thru the movie in the afternoon. Today, a day later, the soreness is almost gone. I will take next week easy and hope to finish TOU in one piece! Am mostly excited to see how fellow FRBers rock it next Sat.
My race times are now about 1 min per mile slower. My course PR was 1:53:00, so a 12+min slower for the Half, just as in Pocatello with a 24+ min slower for the Full. My recent Stake 5K was also 3 min slower than my 5K PR of 23:09. Factors to think about: getting older? recent heart issue? loss of fitness due to recent injuries? It's time to consider and redefine my training and racing goals. I am super excited and happy that my hubby is finding the joy of running!

Teena posted this on her blog. http://extremelongevity.net/wp-content/uploads/MCP-Jun12-OKeefe.pdf It is very relevant to my recent tachycardia episodes.