Made a frenzy of phone calls to find out what hubby's INR was and if I needed to be at the hospital for discharge and whether to run with Wendy locally or try to make it to Big Cottonwood Marathon to run Karen in. I was at Wendy's doorstep ready to run with her when hubby called at 8:15 that his INR was still at 2.2 (actually dropped 0.1)...so had to stay in the hospital. It was sad for hubby and he apologized. I quickly phoned Leslie and she has already left and on her way to BC. So I told Wendy to grab water bottle and I ran home to get a change of clothes and come back to pick her up for a FAST drive to BC. Plan B was to park at the mouth of the canyon (mile 15) and wait for Karen at 9am. The race was supposed to start at 7am.
Had no idea how to get to the mouth of the canyon with road closures, miracously as if my car was guided, I drove straight to the finish, on 1300 E and north side of Fort Union Blvd. and parked on the one available spot in front of a laundromat. Wendy and I grabbed our water bottles and my phone, calling Leslie (no answer) while we ran on the course backward UP UP UP, all the while cheering the Half marathoners as they ran towards the finish. I asked the runners what time the Half started, same time as the Marathon at 7 and I could see the 1:40 pacer running past. We started our run at 8:49am , I worried we may miss Karen by the time we get there. Saw Andy, Becky, Julie, Karen T, Susannah and Jacob running fast and strong to the finish! :) Thought it strange to see boxes of Gu's at the mile 24 aid station, isn't it too late in the race to be taking Gu?
We got to the mouth of the Canyon while Wendy went looking for Leslie, I ran alongside some runners and asked them what their watch said (2:04) and if the race started on time (NO, nearly 25 min. late). So I ran back to find Wendy and Leslie standing at the road island cheering. Lucky for us that the race started late, Karen came into sight within couple minutes. She has hooked up with a gal named Teresa, a member of the Bells on Temple Square (was great listening to her story of Boston 2012). Wendy got chicken out by the uphill on Wasatch so she stayed to wait for us there. The four of us (Leslie, Karen, Teresa and me) ran together on the out-n-back of the course. Karen was right on pace in front of the 4:00 group. She said her calves were hurting. She was still going strong after 15 miles of downhill pounding and now running on the out-n-back rollers, more up than down I think. We were running in the low 9s. When we got to about mile 17.5 I saw the Mile 20 marker on the opposing lane, I told Karen I'd wait there to run them back cause I only wanted to do 10 or 11 miles (with TOU coming up next week). I had run 6.5 then. While waiting in the shade, I cheered on runners on both sides, saw Rachelle pacing the 3:40 (I think) and a few FRBs.
I phoned Lowell and found that he was at mile 17.25. Sure enough, he helped push a stroller up Wasatch Blvd and not far behind the 4:10 group. He was so happy to see me. I ran with him and told him Karen was having calf issues. True to his hero nature, he pulled out a baggie of bacon to give to Karen as she runs by on the way down. Saw RAD and we hugged, somehow never saw Marcie. Instead of running down with Karen who has Leslie to run with, I decided to stay with Lowell who is struggling to keep pace...so what's 4 more miles to help a friend?
Lowell getting super power from Darth after the turn-around! :)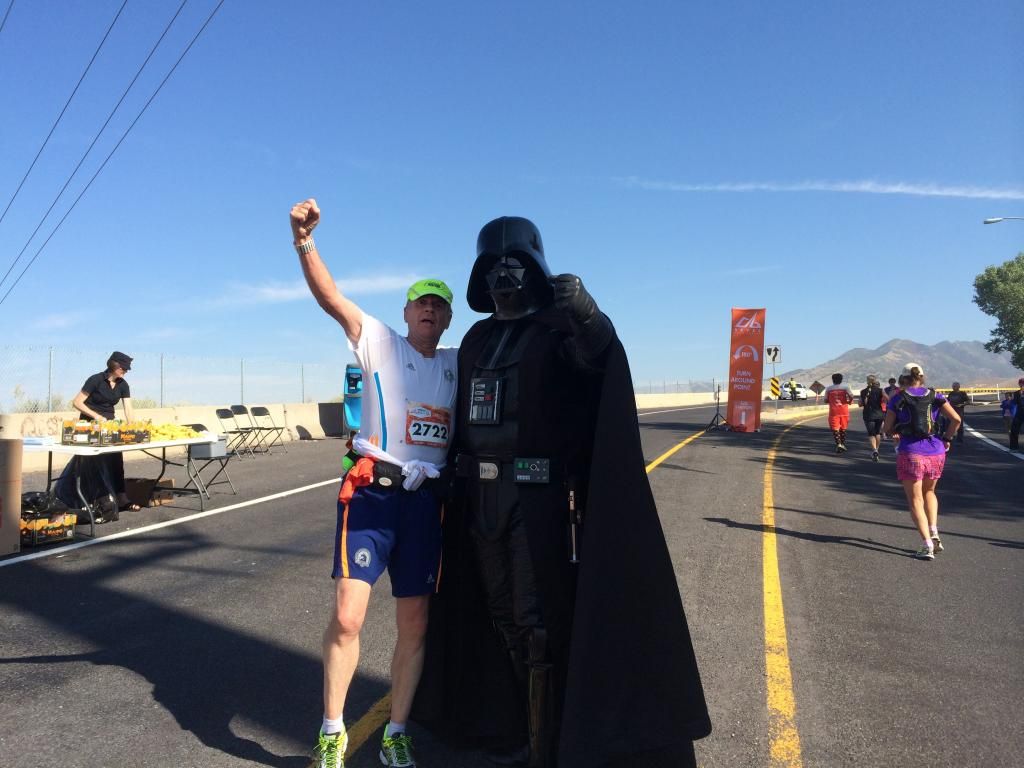 Lowell passing out his "secret weapon" to "live long and PR" (aka bacon) :)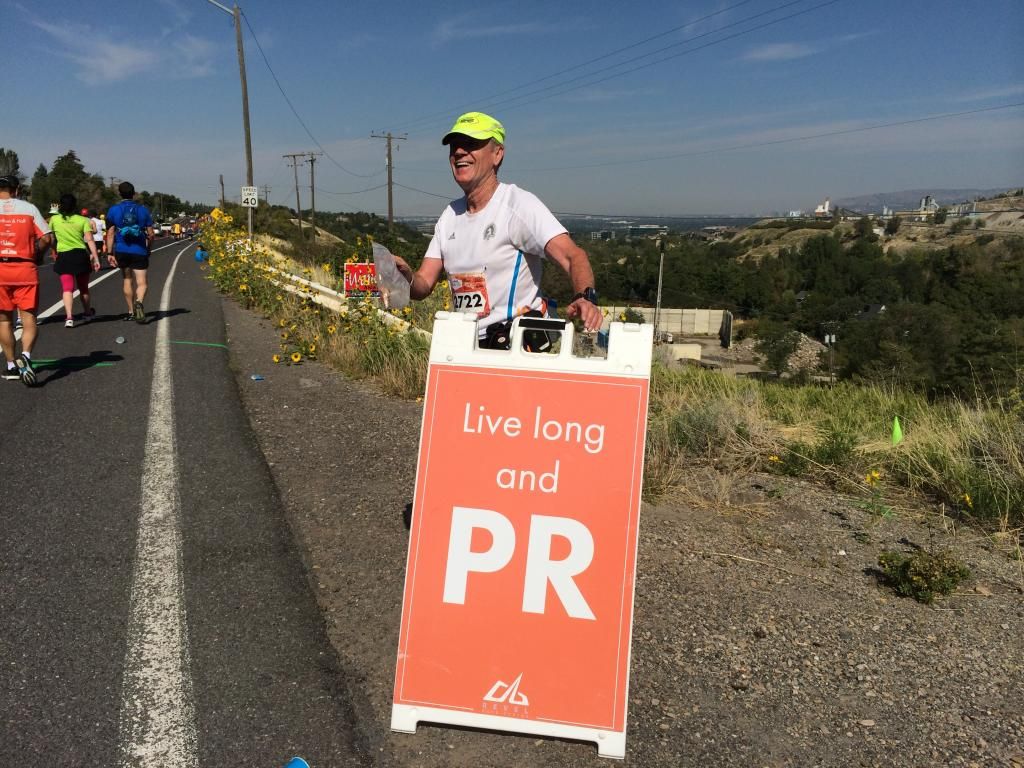 He started to take more walk breaks and checked his watch at each mile marker to compare the pace band he had purchased at the Expo from Andy. At mile 20 he said he was 4 min. behind. I told him we need to stay in the low 9s and only let him walk 20-30 seconds....told lotsa lies, sang songs, befriended fellow runners, enjoyed the beautiful Salt Lake Valley and Watsatch mountains scenery. It was indeed a beautiful morning to run, calm, sunny blue sky, temp has barely climbed up to the high 60s. Sometimes I found myself running a bit ahead while talking to other runners, so I'd run back to get him. Since we missed his 4:10 goal, now our focus is to get his BQ (4:25). He had already qualified and signed up for Boston 2015 on Wed. He did not know that today's race is the starting qualifying date for Boston 2016! I know because I checked! :) :) :) Cool that BC is good for two BQs!!!!
Lowell running by the church he used to attend when he lived in the area many many years ago. Check out his form even in the late stage of the race in the 24th mile!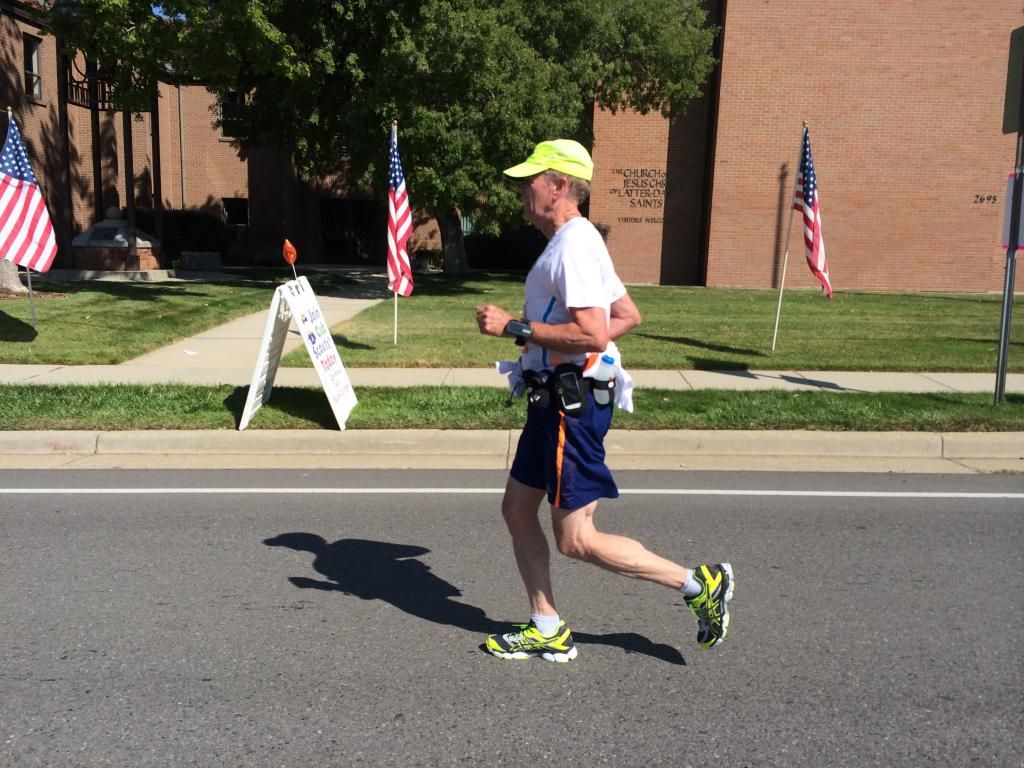 No matter how many marathons you've run (this is Lowell's 102nd, his 101 was two weeks ago), the last 5Ks are still the hardest and it is still a thrill and joy to cross that finish! He finished in 4:22:22!!! Hooray!!!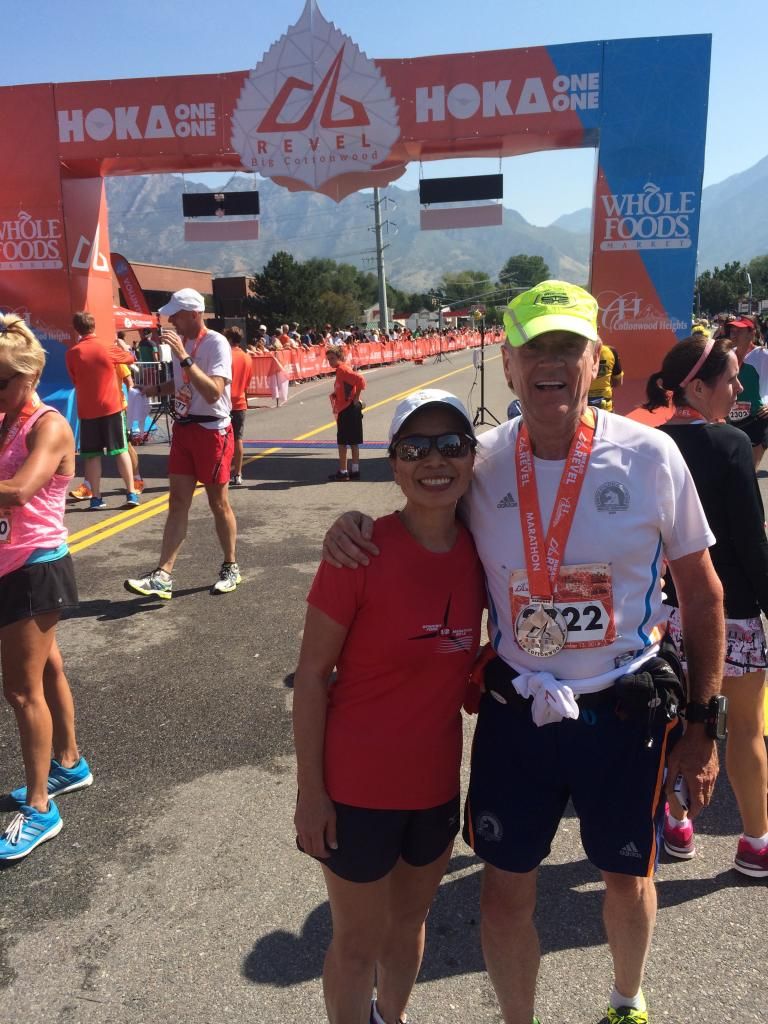 We immediately went over to the fence where Karen and her husband Mark, Wendy and Leslie are waiting. Karen finished in 3:58 (3 min shy of a BQ). I felt bad I didn't run with her to the finish. But am so proud of her AWESOME performance. She got injured just before Ogden so she DNS there and started training back up when I got home from Australia. Consisdering that her highest mileage week was 45, she did outstanding today!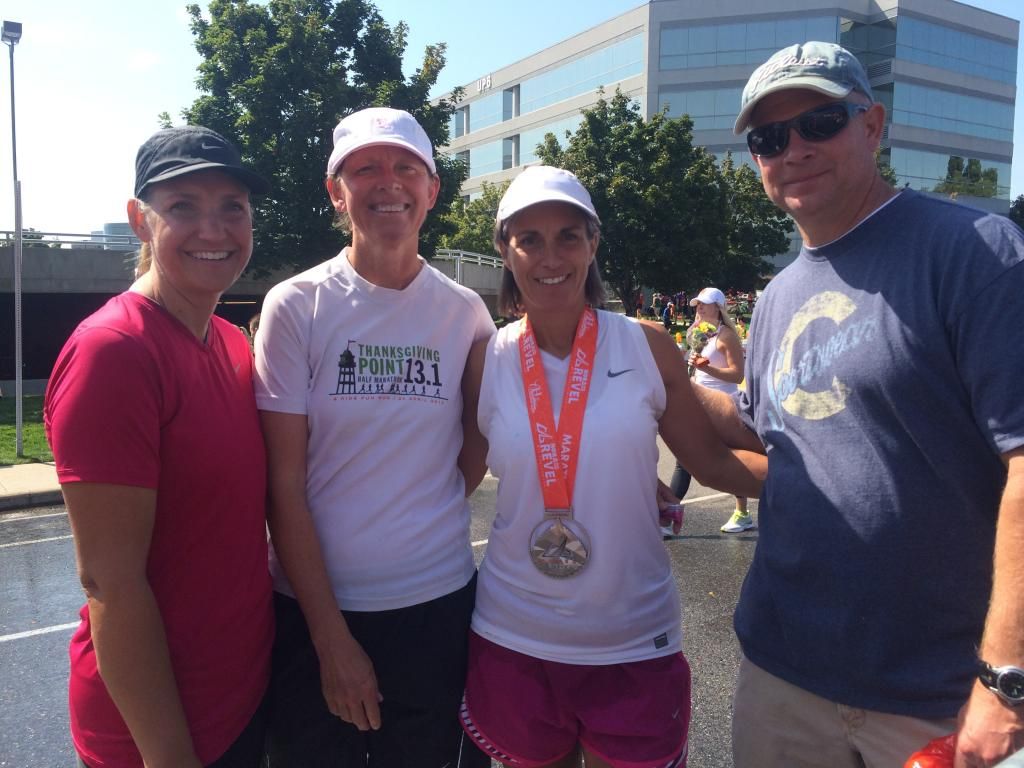 Love, friendship, joy, support on a beautiful Sept morning captured at the end of a 26.2 journey!
After bidding everyone goodbye. I drove straight to the hospital to be with hubby. Showered and ate a big salad there. Went home in the evening for the Saturday Stake Conference Mtg. Both shins started to bug during the meeting. Hope they heal up before next Sat. TOU, my last long long run before SGM! :)